You can play at 188BET Mobile Casino and earn casino rewards from anywhere in the UK, night or day, using your smartphone or tablet. There are many progressive jackpots, slots, table games and more to bet on and mobile exclusive casino bonuses to enjoy while you play at 188BET mobile casino.

Whether you're a new or existing 188BET customer, you can claim a 100% mobile deposit bonus, up to £60 on your first visit to the mobile casino. That's on top of the standard 100% first deposit bonus, up to £50. Just follow the link below and create a new account to claim your welcome offer.

Go to 188BET Mobile Casino now

How to Access 188BET Mobile Casino

Tap the link above to go to 188BET Casino Mobile. Your device's mobile internet browser will take you to the 188BET Casino Mobile site, where you can register an account and claim the bonus offer.

Both iOS and Android devices are supported and you can also claim a welcome bonus against your first deposit at 188BET Casino on your PC or Laptop.

App Editor Rating
Platforms
Android, Blackberry, Tablet, iPhone, iPad, Windows Phone
Has Free To Play
Yes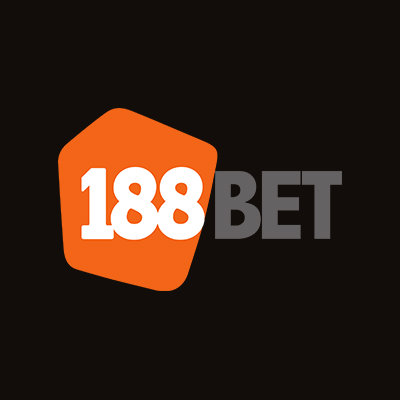 Read the 188BET Casino Review to find out if they meet your requirements. Read
188BET Mobile Casino Review
On first impressions, you may find the white background of the mobile site to be a little plain and we did wonder why 188BET Casino had decided to move away from the colour scheme that works so well on desktop. Thankfully, this doesn't affect the performance of the mobile site or the games within it, so as long as you don't mind an uninteresting backdrop to your browsing, then this won't be a problem.

The mobile site's design is quite different from most other online casino operators in the way you move between the different game categories. Each game type has it's own section which can be expanded or collapsed, so you can easily shut out the games that don't interest you and focus on those that do.

The first of these sections is for featured games and this is the only such section that has multiple groups of games within it. Swipe through to reveal the next batch of games and tap to reveal more information on the game and launch a demo mode to try it out before you play, if desired.

Next, it's the progressive jackpots and these are likely to be a big hit for those casino players chasing a big win. Progressive jackpots are accumulated over time and can drop at any moment, so being able to login and have a shot at a big prize on your mobile is a real bonus.

If you like slot games, then the 188BET Casino mobile site is sure to be right up your street with over 100 titles to choose from in various themes. Play seasonal slots or test your detective skills on crime based games, while the adventure slots will give you a genuine thrill. Play for bonus rounds and free spins on sporty slots and releases off the back of blockbuster movies and popular video games. You'll be impressed with the graphics on the 3D slots, which include the ever popular Game of Thrones slot.

Table and card games include the online casino favourites roulette and blackjack in various styles, though no baccarat or craps may be seen as a negative by some players. There are other games like video poker, deuces wild, break da bank and aces & eights.

On the whole, despite not striking you as a highly polished platform to play casino online, we think you'll be pleasantly surprised just how easy 188BET Mobile Casino is to use and the variety of games will keep you entertained for hours.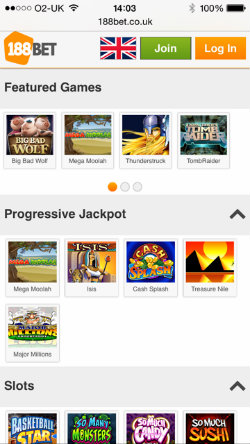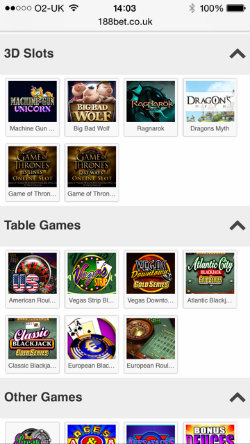 Reasons to Use 188BET Mobile Casino
Mobile deposit bonus

No download required

Instant access to mobile casino

Broad range of slots

Mobile exclusive offers