Enjoy 32Red Casino games on your iOS powered iPhone or iPad with the 32Red Casino App or the 32Red Casino Mobile Casino site. Both of these options will give you access to the casino bonuses and a fairly large selection of the games that you can find on their main desktop site. The choice is far less but here it is a case of quality rather than quantity.
The preferred option to play the mobile version of their games is to access their site directly from your mobile device. Simply visit the main site at www.32red.com and you will be redirected to a mobile friendly version of the casino site. The mobile casino offers a choice of table games, 3 and 5 reel slots and progressive jackpots. If however, you would prefer to have their app on your phone so you are just one click away from playing your favourite games, then this is available to download in the normal way.
The 32Red Casino is licensed by both Gibraltar and the UK and regulated by the Gibraltar Gambling Commission and the UK Gambling Commission.
How to Access the 32Red Casino IOS App
You will need to visit the App Store to get this application, as there is no link from the casino site. Enter a text search for 32 Red and download the app. You can start playing casino games once the app has been installed.
App Editor Rating
Has Free To Play
Yes
32Red Casino IOS App Review
When you open the 32Red Casino IOS App and arrive on the home screen, although very neatly laid out and fairly straight forward, it is not quite the modern looking and instantly familiar type of app you would expect. The main problem for this is most likely that the app has not been updated since 2014. The reason for this is more than likely that their site is mobile friendly and accessing their games from the web browser of your mobile device is the preferred option by 32Red Casino.
Most modern day apps have a particular layout that includes a standard app menu that is denoted by a series of 3 horizontal lines. This menu option is not available here and is one of the identifiers that this app has been developed in a different way to current modern apps. Nevertheless, it is still extremely simple to use and has exactly what you need to play the 32Red Casino games on your mobile.
At the top of the app there are 5 clearly marked sections which are new games, 5 reel slots, table games, progressives and 3 reel slots. Simply selecting any of these options will open up a list of related games. Once the games are in view you can browse them at your leisure. Again, unlike most apps where the whole screen scrolls, here the middle section is like a window with the top and bottom menus remaining in place. Therefore just the game list area scrolls up and down.
The majority of the games available (and it is quite a good list) are within the 5 reel slots section with then only two 3 three slots, 4 progressives and 8 table games.  Unlike the main website where you can play a game for free if you wish (playing for fun) by simply launching the game, here on the app it is slightly different. Selecting a game of your choice will call up the login screen for you to enter your existing details and play for real, or register a new account directly through the app. However, this is where there is an option to choose to play for free (fun play) to try the game out.
At the bottom of the 32Red Casino IOS App you will find further menu options for banking, promotions, your player account and help. Selecting any of these will call up that relevant section.
All in all it is not the best performing app for online casinos but it clearly does the job. It has a good selection of games, far more than some other casinos, so this again is a good reason to make use of it. However, check when the app was last updated as you may decide that playing via your mobile browser may give you a better playing experience.
Compatibility
The 32Red Casino IOS App is compatible on iPhone with iOS version 4.3 (or higher) and is available to download on iPhone, iPad and iPod Touch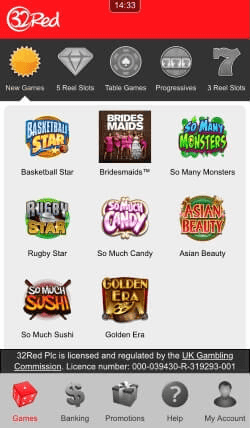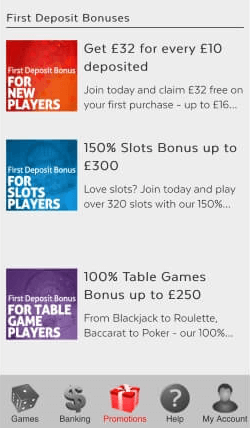 Reasons to Use this App
Convenient access to 32Red Casino games

Mobile versions of top games including slots, table games and progressives

Games run smooth

Make deposits directly through the app