If you'd like to be able to play with online casino bonuses on your iOS powered mobile and a wealth of mobile compatible games, then the Gala Casino App should be at the top of your list. Although there are many online casinos that offer either a mobile casino website or a dedicated app, the number of games are usually limited. However, when playing at Gala Casino this is a different matter as the choice is one of the largest around.
You have two options with Gala Online Casino, the first being to visit the website using the web browser on your mobile device. However, iOS users can play casino via a dedicated app if they wish. Whichever option you choose, you will find that they are similar in terms of looks and performance. Both will give you instant access to a good selection of slots, casino games, progressive jackpots and more.
Gala Casino is licensed in Gibraltar and also licensed and regulated by the UK gambling Commission.

How to Access the Gala Casino IOS App
Now if you visit the Gala Casino website, they do have a dedicated page that talks about how to access their games on an IOS device and strangely enough they do not directly mention their iPhone/iPad app and they explain you can just play direct on their site through your mobile browser.
If though you do prefer to have their app sitting on your device, then just search for Gala Casino in the app store and download and install  to your device in the normal way for any app.
App Editor Rating
Has Free To Play
Yes
Gala Casino iOS App Review
Once you have the Gala Casino IOS App on your device and you open it up for the first time, you will be presented with two messages on your screen. The first is the ask if you would like to be sent notifications and the second to access your location. The latter is to make sure you are in the UK and therefore meets with the Gambling Commission guidelines.
Once you are on the home screen of the app you will realise that the build of their app has the same high quality feel just like their desktop site. It is well made and well laid out. The very top section is a promotional banner area that details current offers and promotions, including their welcome offer for new players. If you are not yet registered you can signup via any of the links within this article. 
The Gala Casino app gives you a facility to search directly for a particular game. This is particularly useful if you know the name of a game you want to play. You then have directly underneath the search, a menu area. Now most apps have a menu that is text based i.e. titles such as 'slots', 'blackjack' etc but not here. Gala have chosen to have a menu that is driven by icons. Although maybe not instantly recognisable to what these are, simply clicking on them reveal the games that they are associated with. The icon based menu means more menu items on display. Further menu options are offered at the bottom of the screen.
The games list in each section is one of the best we have seen and each game is displayed in a large almost square display with the game's title and imagery. You simply need to tap on a game of your choice and if you are logged in, then the game will instantly load and subject to funds in your account, you can play straight away. If however you are not logged then a message will appear asking you to do so or register a new player account.
Now not quite as visible as all the other sections of the app, is the 'app' menu. Most users will recognise a three horizontal line icon as representing an app menu, however here this is not the case. A small blue oblong box on the left hand side of the screen, half way down, is the button to select to access the app menu. There is not a lot here apart from a help menu and contact link for support. If you click the contact us, your mobile device will link directly to calling Gala Casino support.
Overall the Gala Casino app is one of the best available and is highly recommended.
Compatibility
The Gala Casino app will work on iPhone with iOS version 5.1.1 (or higher) and is available to download on iPhone, iPad and iPod Touch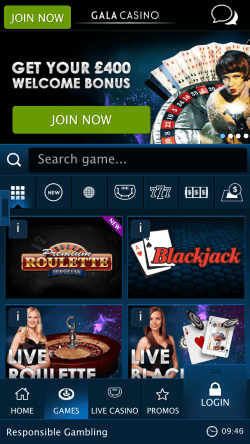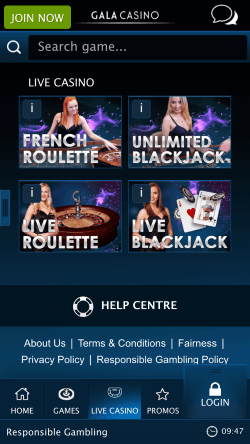 Reasons To Use This App
Quick and Easy to add to your mobile device

Has one of the biggest selections of mobile games

Fast and Smooth gameplay

Extremely Convenient