With the convenience that a mobile device brings it is no surprise that a popular casino like Betbright Casino has the facility for its players to access its great selection of mobile casino games and casino bonuses no matter where you are. This means you can enjoy the fun and excitement of playing at an online casino at your fingertips. With a few swipes on your mobile device with the BetBright Casino App you will be playing popular casino table and card games, top quality slots and games with big progressive jackpots.
For users of an IOS powered device you actually have two options available to you. Firstly you could if you wish just use the web browser on your device and visit the BetBright Mobile Casino site. This will display just the same as a mobile application with all the usual features and means no zooming in and out as if on an normal website. However, for even more convenience there is a dedicated app that you can install onto your device.
How to Access the BetBright Casino IOS App
The quickest and easiest way to obtain the BetBright Casino IOS App is to visit the app store using your mobile device and perform a search for BetBright. They only have one app so this will appear in your search. Then just download and install the app in the usual manner.
App Editor Rating
Has Free To Play
Yes
BetBright Casino IOS App Review
When you open up the BetBright Casino IOS App for the first time, you will be asked if you would like to receive automatic notifications. Whether you decide that you do or do not, at any time you can go to your device settings and change your choice. Once you have passed this message, you will then be on the main screen of the app.
Immediately you will see that the app is not just dedicated to the casino games but also offers access to the sports betting and the games section of their site. It is the sports betting that you will be presented with first. Underneath the Betbright logo you will see a menu that includes a link to the casino. Simply tap the link and you will then be presented with the casino options. The first time this section loads it may take a few seconds to update its data, however this only happens once.
You will then see a scrolling promotional banner detailing the latest casino offers. There will then be a second menu that you can swipe from left to right that will give you access to the various game types such as slots, blackjack, roulette and video poker. There are no live casino games available.
You will find that compared to many other online casinos that offer a mobile app, BetBright Casino have quite an impressive list of mobile games available. Although this is still only a selection from their main website, the amount you can choose from, especially online slots, is enough to keep players more than happy. You can even play the BIG progressive jackpot games such as the Mega Moolah slot.
Tapping on a game that you would like to play will give you three options. You can either login to play for real, play just for fun or get information about that particular game. The app and the games run smoothly and there is very little waiting time. Getting back to the main screen is easy with a simple tap of a large white arrow that appears towards the top of the app.
Finally, there is a further menu available which is located in the top left corner of the app. Opening up this menu gives you access to the same top menu items along with information about BetBright, Terms and Conditions, Responsible Gambling and Support.
Overall the BetBright Casino IOS App is quick and convenient with plenty of games available plus access to the sports betting if you wish.
Compatibility
The BetBright Casino IOS App is compatible on iPhone with iOS version 6.0 (or higher) and is available to download on iPhone, iPad and iPod Touch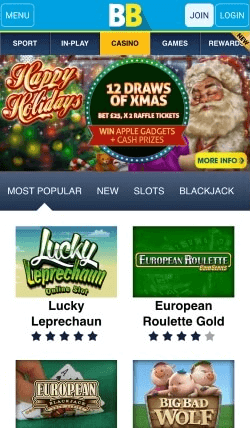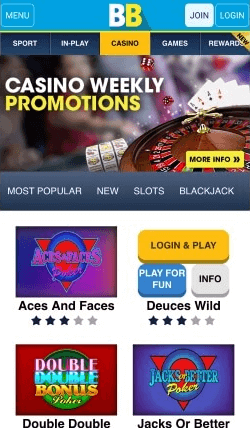 Reasons to Use this App
Modern and easy to use

Access to a large selection of games

Access to Sports Betting

Convenient