If you enjoy playing your online casino games at Matchbook Casino then you will be pleased to hear that they now have the facility for you to play via their Matchbook Casino App. Earn casino rewards on the mobile casino and play with casino bonuses anytime, anywhere. 
Even though you can visit their main website on your mobile device, as an IOS user you can download the Matchbook Casino App and play games such as Blackjack or Roulette or Baccarat., along with a selection of online slots. Having the app on your mobile device makes it convenient for you to be anywhere and as long as you have a WiFi or data connection, you can play the tables if you wish.
The Matchbook Casino is powered by the Proprietary software licensed in Alderney and regulated by the UK Gambling Commission.
How to Access the Matchbook Casino IOS App
You can get to download the app to your IOS device in two ways. Firstly, if you visit the main Matchbook website using the web browser on your mobile device and select the main menu option in the top left-hand corner, you will find many sections. Select the 'Help and Learning' section and scroll down by swiping your finger until you come to the 'About Matchbook' area. There you will find a link that says 'mobile applications'. Select this option and then you will find a link directly to the Matchbook Casino IOS App. Download and install in the usual way.
The second option is to simply visit the Apple App Store and search for Matchbook. You will be able to recognise the correct app from their logo and company name. Again at this point you would just download and install the app to your IOS powered device in the same way as any other app.
App Editor Rating
Has Free To Play
Yes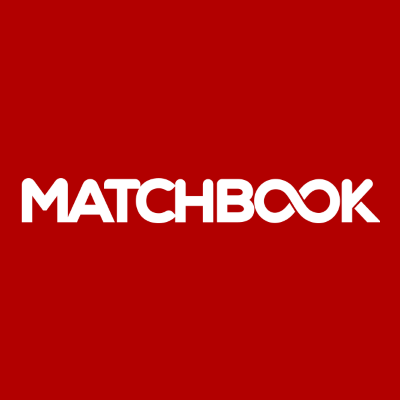 Read the Matchbook Casino Review to find out if they meet your requirements. Read
Matchbook Casino IOS App Review
When you open the app you would be forgiven for thinking you have just downloaded their main mobile app for sports betting. Unlike other online casinos that have a dedicated app just for casino games, here you have an app that incorporates practically all of its sports related content and the casino games are more of an 'addition' to the app.
You are not immediately presented with anything that would indicate you have a casino app but if you scan the top of the home screen you will find a menu that you can swipe from left to right to view the betting options available. These are basically broken down into game types such as Soccer, American Football, Basketball etc but at the very beginning is a casino icon.
Selecting the casino icon or by clicking the small three lines in a red bar at the bottom of the home screen and then the word 'casino' will both bring you to the main online casino section. You will now be presented with a selection of mobile casino games displayed with images of the game.  In total, there are just 21 mobile casino games to choose from.
You will find Blackjack, Progressive Blackjack, European Roulette, American Roulette and Baccarat. There are 16 video slots including KOI Princess, Aliens and Starburst. Simply select the mobile casino game you wish to play and if it is a table game you will be presented with up to 3 table limits. Select the limit that suits and you will then go straight into the game as long as you are logged in. If you are not yet a member, you can open an account via the app and new players can receive up to £50 free based on your first wager plus 25 free spins.
One good aspect of the mobile app is that if you want to see how the games work, there is an option within each game type to play the game for fun. Therefore, you can try them out before using your own real cash.
Compatibility
The Matchbook Casino IOS App is compatible on iPhone with iOS version 8.2 (or higher) and is available to download on iPhone, iPad and iPod Touch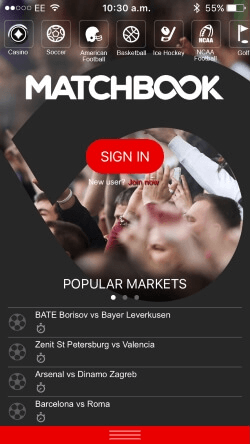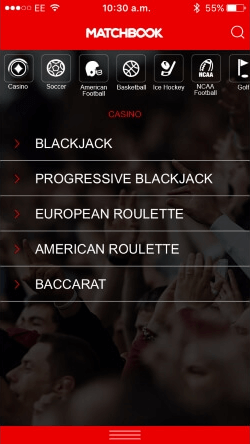 Reasons to Use this App
You can play Matchbook Casino games on the go

You can access their sports betting facility

Good graphics and smooth gameplay

Convenient