Use the Smart Live Casino App on your iPhone or iPad and get access to a great choice of mobile casino games. Get casino bonuses to play favourites like Blackjack and Roulette plus a selection of both classic slots and video slots. If you are looking to play at a casino online whilst out and about, then having this app on your mobile device is ideal.
Just make sure you have access to a good 3G/4G or Wi-Fi data connection and within moments you can be enjoying spinning the reels of your favourite slot or spinning the wheel of a roulette game. It is quick, convenient and you can even just play for fun if you wish.
Registered in Malta, Smart Live Casino is fully regulated and licensed in the United Kingdom in accordance with the UK Gambling Commission and operated by Smart Gaming Group Malta Ltd.
How to Access the Smart Live Casino IOS App
To get the Smart Live Casino IOS app for your mobile device, just visit the app store from your iPhone or your iPad and search for Smart Live Gaming. Once you have found their app, just download and install it to your mobile device in the usual way.
App Editor Rating
Has Free To Play
Yes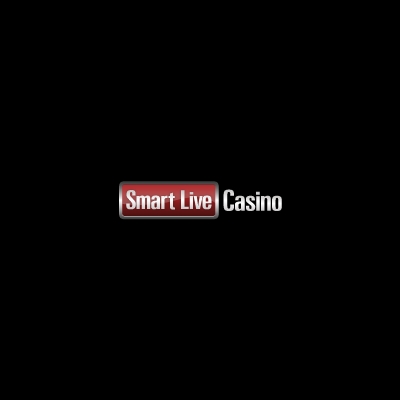 Read the Smart Live Casino Review to find out if they meet your requirements. Read
Smart Live Casino IOS App Review
When you open the Smart Live Casino IOS App for the first time, you will asked if it can send you notifications. Once you have made your choice, you will then be taken to the home screen. Unlike other casino apps that take you straight to the games, with this casino app you are presented with a specific promotional screen for its new app along with the opportunity to register if you are new to Smart Live Casino.
The main focus of attention at this point is the fact that the casino can now provide Live Roulette via its new app and encourages you to download it to your device. Tapping on the banner will take you to the app store to download this extra app, or if you already have it on your device it will offer to open it up for you. The interesting point with the new Live Casino app is that you can actually play the Live Casino for FREE if you wish and see what it is like.
Getting back to the main Smart Live Casino IOS App, the rest of the home screen details the benefits of joining the online casino and at the top of the screen there is a register button. Tap this to open up a new player account. If you are already a member you can just login using a button that is also displayed at the top of the home screen.
At the bottom of the Smart Live Casino IOS App you will find four options. The first is a home button to bring you back to the main screen. The second is for live casino which presents a further screen regarding downloading their new Live Casino App. The third option is to access the available online casino games and finally the fourth option is to access the sports betting which is also available from the Smart Live Gaming website.
So to access the online casino games, tap the bottom casino button and the available games will be displayed, along with a new menu bar at the top of the app. Using this additional menu you can choose to view all games, most played, favourite games, hit games, video slots, classic slots and table games. There is also the facility to search for a game of choice.
As you look through the game types you will find popular titles such as Starburst, Tomb Raider, Gonzos Quest and Thunderstruck II. There is not a great deal of table games available but the essentials are there. You can play two variations of blackjack and two variations of roulette. Once you have chosen a game, just tap the game icon and you can play for fun if you are not logged into your account or add it to your favourites list. To play for real just login via the app first and then choose your game.
One section that is not immediately visible is an extra menu area that details information about Smart Live Casino, support details, terms and conditions and more. However you would be forgiven for not knowing this area existed. There is no typical app style menu button (the series of 3 horizontal lines) for you to tap and I myself came across this by accident.
Only when you are in the casino part of the app can you access this hidden area. Just swipe your screen to the right and the extra menu will magically appear on the left. Swipe to the left and it will be hidden again.
In summary, the Smart Live Casino IOS App does exactly what it is meant to. It is not the best available and the games list is not as extensive as other providers, especially on table games. The fact that the main app menu is hidden with no visible facility to access it for support etc is frustrating and the live casino requires you to download a new app is a bit inconvenient. However, once you have both, the apps run smooth and quick. The games load easily enough and you can play for fun including the live dealer games. The latter point is a unique feature and in itself is a good reason to use Smart Live Casino IOS App.
Compatibility
The Smart Live Casino app is compatible on iPhone with iOS version 8.0 (or higher) and is available to download on iPhone, iPad and iPod Touch.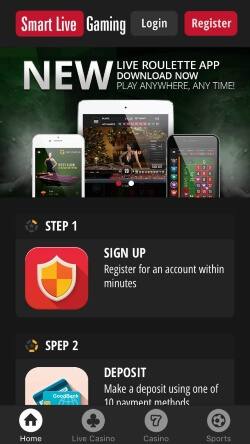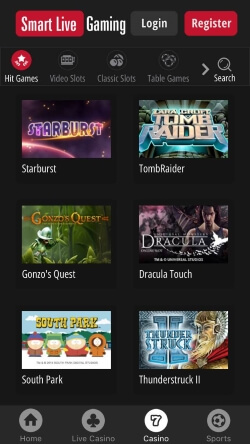 Reasons to Use this App
Easy to download and install

Convenient way to play Smart Live Casino games

Good choice of video and classic slots

Access to Sports Betting