Enjoy casino rewards playing casino table games and exclusive mobile slots including Treasure Island and Big Bad Wolf with the Spin City Casino App an addition to Unibet Mobile Casino. Not only can you play these games but you can collect trophies and earn tokens as you play. You can then use your tokens to trigger instant free spins. Although there is a welcome bonus of up to £200 and 50 free spins by using the Unibet Mobile Casino, you are unable to use that bonus with this Unibet app. Instead, you will receive 1 token for every £10 deposited, up to a maximum of 10 tokens for a £100 deposit.
Having the Spin City Casino App installed on your IOS device means you can get to play mobile casino games anywhere within the UK. This is providing you have a good Wi-Fi or 3G/4G internet connection. Enjoy some casino action when on a lunch break or traveling on public transport or just out and about. With just a few taps on the screen of your iPhone or iPad, you can get to play some top quality casino games within moments.
Spin City Casino is owned and operated by Unibet International Ltd who are licensed and regulated for UK players by the GB Gambling Commission.
How to Access the Spin City Casino App
To get the Spin City Casino App for your IOS device, just visit the app store and search for Spin City Casino. Once you have found the app, just download and install it on your mobile device in the standard way.
App Editor Rating
Has Free To Play
Yes
Spin City Casino App Review
When you load up the Spin City Casino App you will notice that it is not your normal online casino app. The whole layout and styling are not in line with the main Unibet Casino website nor with any other app you may use. Firstly, the app cannot be used in portrait mode which may not suit some iPhone users.
At the top of the Spin City Casino App, you have the facility to register a new player account or login if you are already a member. You can use your existing account details for Unibet Casino with this app. There is also access to a hidden menu via the menu icon at the top left of the app. Selecting this will reveal links to other Unibet Apps, the main Unibet website, Promotions and various legal information.
This top menu bar becomes hidden when a game is played apart from a small green drop-down arrow that allows you access back to the home screen.
The landscaped layout does not present the games in a format where it is easy to see all the games available. Rather than a neat format of lists or categories, you have a city background that is then overlaid with game icons. These game icons can be moved left or right within their own rows or scroll up and down to reveal the few other games available.
The app has three rows of games which include 12 online slots, 4 casino games which are mobile Blackjack, mobile Roulette, Jacks or Better and Pile Poker and then a row of 3 dice games. So in total, there are only 19 casino games available to play. This is a very low selection of games in comparison to the 660 available on the main Unibet Casino website or even the 256 available on the Casino iPad app or the 160 on the Unibet Mobile Casino.
Selecting any game will see it load on your device, albeit it slowly at times as it downloads data to your iPhone or iPad. Once the game has launched you can instantly play for fun. You can use this facility to play all of the games included within the app.
Overall the Spin City Casino App is a confusing piece of software. We don't think it really knows whether it wants to be a proper online casino app or just an app for fun. The limited number of games and the fact you play to earn tokens for free spins tends to lean towards the latter option. However if you are an existing Unibet Casino player then we can imagine that this little app might be quite fun.
Compatibility
The Spin City Casino App is compatible on iPhone, iPad and iPod touch with iOS version 7.0 (or higher).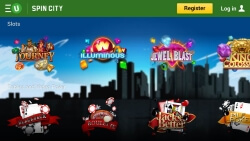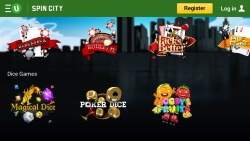 Reasons to Use the Spin City Casino App
Fun to play

Earn tokens for free spins

Use existing Unibet Casino login details

Freeplay mode on all games