Installing the TonyBet Casino App on your IOS powered device means you can enjoy a selection of mobile casino games without being restricted to your desktop PC or laptop. Play TonyBet mobile casino games anywhere and anytime you wish providing you have a good internet connection. Enjoy regular casino rewards including a cash bonus of up to £100 on every deposit.
The TonyBet Casino App allows you the freedom to play mobile casino games from the comfort of your sofa or maybe on a lunch break from work or just generally out and about. Download the free app today and enjoy the convenience it brings to playing your favourite casino games.
Originally known as Omnibet, this online casino was acquired in 2009 by world famous poker pro 'Antanas Guoga', better known as Tony G and the site was subsequently rebranded to TonyBet. TonyBet is licensed and regulated by the GB Gambling Commission.
How to Access the TonyBet Casino App
To get the TonyBet Casino App for your IOS device, just visit the app store and search for TonyBet UK. Once you have found the app, just download and install it on your mobile device in the standard way.
App Editor Rating
Has Free To Play
No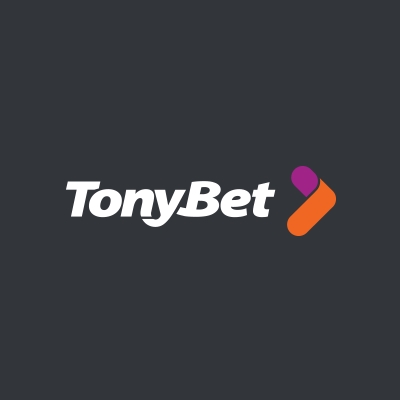 Read the TonyBet Casino Review to find out if they meet your requirements. Read
TonyBet Casino App Review
Once you have installed the TonyBet Casino App on your iPhone or iPad you will find that it runs smoother than simply accessing their mobile casino through your web browser. The modern and slick app loads with ease and will ask to use your location services so as to determine that you are in the UK. You will also be asked if you wish to receive notifications. Once you are passed both these popup messages you will be on the home screen of the app.
The top of the screen to the left offers access to the main TonyBet Casino App menu where you can easily jump to different gaming opportunities. These include their Sportsbook and Live Betting along with Live Casino, Casino and Poker areas. Within this menu, you can also change various settings of the app, such as language and time zones. You can also access support and their legal information such as terms and conditions.
On the top right of the home screen, you will see an icon that allows you to either log in to an existing account or to register a new account. Underneath you will then be presented with a series of 3 promotional banners. By tapping any of these you will be asked to log in to either access the information about that advert or play the game associated with it. Below this you have the main gaming sections for you to choose where to play and included is a direct link to customer support. Finally, the bottom section of the app has account information and options to deposit or search the site to name just a few. Some of these can only be used when logged in.
Tapping on the casino link will take you to the main casino area. Again the top of the screen has a series of promotional banners, ten in total, which are simply adverts for various mobile casino games. Below the banners you will find the games you can play using your mobile device. They are displayed in categories that include 'Recommended Games', 'New Games', 'Slots', 'Video Slots', 'Table Games', 'Other Games' and 'All Games'.
Now from this selection of categories, you would be forgiven for thinking that there are plenty of mobile casino games to be played. However, at just 35 casino games, this is only 1 more than the TonyBet Mobile Casino and again is somewhat limited. Selecting the link to show all the games in a category will present them in a neatly listed format detailing the name of the game along with an image and a large play button. As there is no demo mode available you will need to have a funded account to be able to play a game. Once you are logged in and have made a deposit, then tapping a game will see it load quickly in your screen.
Despite the limited number of games you will find some of the latest titles to play including Guns 'n' Roses, KOI Princess, Starburst and Piggy Riches. You can also play mobile Roulette and mobile Blackjack. There are no progressive jackpots available and no video poker games so this may disappoint some. However, for that extra bit of excitement you can select to go to the TonyBet Live Casino games where you can play live Roulette, live Blackjack, live Casino Hold'em and live Baccarat.
In summary, if you are a member of TonyBet Casino where there is a wide choice of nearly 300 online casino games, then the TonyBet Casino App is a good companion piece of software to add to your iPhone or iPad.
Compatibility
The TonyBet Casino App is compatible on iPhone, iPad and iPod touch with iOS version 7.0 (or higher).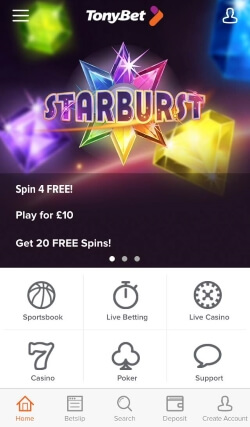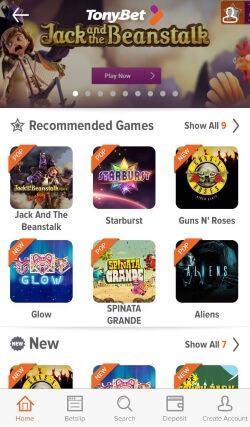 Reasons to use the TonyBet Casino App
Up to £100 bonus on every deposit

Access to a selection of the latest video slots

Play live casino on your mobile device

Play anywhere and anytime