Get Into Pole Position With The 888 Casino Slot Races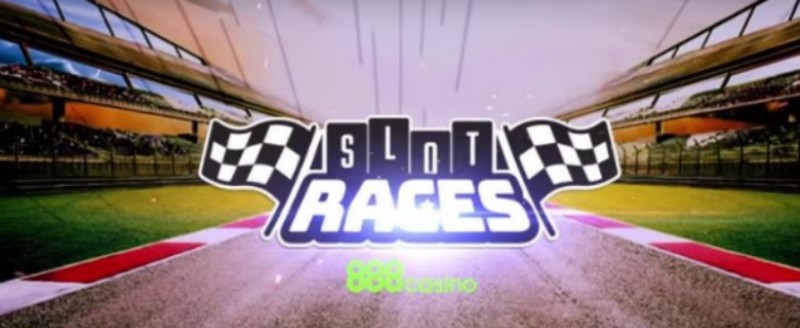 Get ready to red line your engine with the 888casino slot races!
888casino recently launched its most ambitious slots tournament yet – the Slot Races. This Grand Prix-style contest pits player against player in multiple fiercely competitive online slots races. Players must register at 888casino to cash in on the action. The Slot Races are fashioned off the fastest race cars in the world; we're talking 1.6 L V-6 configurations with a decibel count that is deafening. In everyday parlance, that means this slot tournament is going to get loud, and that's just the way slots players like it!
What to Expect from the 888casino Slot Races?
Players are required to opt in to the Slot Races to get on the leaderboard. Multiple players will be competing for their share of the cash, and points tallies will be available for everyone to see. All the top 888casino online slot games are featured in the Slot Races, including the spectacular Rise of the Pharaohs. Entry is free, and any player can win this prestigious tournament. Players rack up points as they win, regardless of the size of their bets. The goal is to continue playing and boosting your points tally until you ascend the tournament leaderboard.
Fortunately, players will be ably assisted by specialized point boosters to power them up the leaderboard. Once you hit the winners' circle, a range of prizes is available. The 888casino Slot Races can be enjoyed on mobile (iOS and Android), PC and Mac. Getting started is a breeze: simply login to your account using your username/password combination, and navigate to the slot races on the top right-hand side of the screen.
Players can join any listed race. The starting time is designated with a countdown clock, the minimum bet is listed, the maximum spins are provided, and the duration of the race is featured. Simply pick a race that you're interested in competing in, rev your engines and you're good to go. One of the best features of the Slot Races is that players can rapidly ascend the rungs with every real-money slot game played. Numerous benefits will come your way such as Monster Wins, Double Jumbo, and Bonus Games.
What Makes the Slot Races Unique?
Typically, online slots play is characterized by picking a game and spinning the reels. There is no interactive component involved. With the 888casino Slot Races, players are not alone. It is a highly competitive contest where a huge number of slot-crazed fans are revving their engines and going head-to-head on the leaderboard challenge. Plus, it's often on the exact same game that you're playing. As you spin and win, you rack up points on the leaderboard. Big prizes are up for grabs, as you race your way to victory. There is a time limit on these tournaments, so that players feel a sense of urgency about their slot sessions. The more you play, the quicker you move to the top.
This tournament allows players to pick their preferred slot games and spin the reels in spectacular fashion. Along the way, you will collect lots of prizes and bonuses, and your ultimate goal is the finish line. Once you make it over that line, victory is yours to savour. Big prizes and awesome rewards are up for grabs. All the online slot machine games in the 888casino Slot Races offer you big winning potential. Even if somebody is ahead of you on the tournament leaderboard, you can still leapfrog past them with point boosters such as the Super Booster or Monster Wins. Like any other contest, you've got to be in it to win it, and these fantastic slot tournament features will help you to do precisely that.
Go 0 to 100 in Double-Quick Time with the Slot Races
Players can stay abreast of their position on the rankings with a mini leaderboard at all times. You're always in the loop as you tear down the track at breakneck speed. Remember: this is a race, and you're up against the clock. Your goal is to spin and win as much as possible in double-quick time. Once you make it through this contest, there is nothing sweeter than the prizes up for grabs. Each race that you sign up for offers unique prizes. Your points tally determines the prizes you get to enjoy. Things like cash prizes, bonuses, free play, and free spins are up for grabs. This makes it highly enticing, immersive and entertaining for slots fans. The 888 Slot Races do not require players to have any specific skills or strategy. Provided you are ready to spin, you are ready to win. The contest is the most ambitious tournament yet by 888casino and judging by player reactions, it is a raging success!