Marathonbet and Manchester United Launch Online Live Casino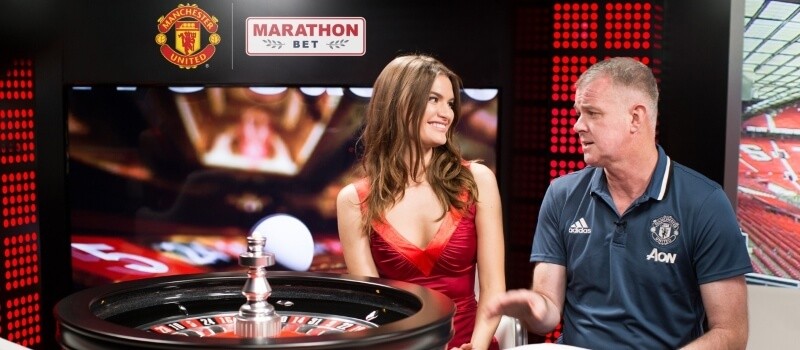 Casino games in a Manchester Casino live setting
If you enjoy playing casino games online, especially live casino games plus you are a Manchester United fan, then you are in for a real treat. In association with the sportsbook and online casino website Marathonbet, the first ever football club branded live casino has been launched.
This means as an over 18 Manchester United fan you will be able to enjoy your favourite casino games such as blackjack and roulette while immersed in a uniquely Manchester United live casino setting. This will include seeing the friendly dealers in front of the backdrop of Old Trafford and there will be specially branded prizes, giveaways and offers available.
Future Plans of Manchester United
The group MD for Manchester United, Richard Arnold, has said that their commercial partners help them to find new ways to engage their 659 million fans worldwide. Their global partner Marathonbet has certainly created some great content and experiences for their fans on matchdays at Old Trafford and now online in their branded online live casino.
Richard went on to say how the announcement of this new venture is the most exciting of their partnership with Marathonbet. It means their over 18 fans can interact with other kindred spirits that enjoy online casino games.
Marathonbets head of gaming R&D, Christian Merlin, added that their aim is to offer a unique and immersive environment where fans can enjoy live casino games while having the feeling of being part of Manchester United. This co-branded casino environment is currently one of a kind in the gambling industry and gives fans a chance to mix with like-minded casino players and offers an overall unique gaming experience.