NEW Cash Out Roulette at Betfair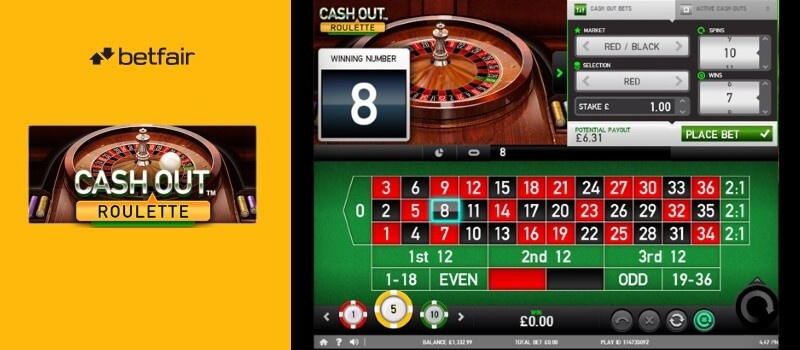 The online Sportsbook and Casino provider Betfair has now gone live with an innovative product that has been created by the online casino game studio 'Be The House'. The game in question is Cash Out Roulette and is a product geared towards changing the way online roulette is played.
Playing the game will still see you have the option to place bets on a traditional single spin of the roulette wheel but now you will also be able to bet on outcomes of consecutive spins. This means you will be able to make the type of bets that include such as betting 6 black numbers in the next 12 spins, 10 red numbers in the next 20 spins, one number 27 in the next 8 spins etc.
The new product will have benefits for both the player and the operator. The player will now have the ability to wager on bets that will generate a higher payout, help control their volatility and during any muli-spin bet be able to cash out at any time. For the operator, Cash Out Roulette should see longer sessions with their players and the product will look to help increase their overall customer base.
Although Betfair is currently the only gambling brand to operate the new Cash Out Roulette game, Be The House has stated that they are working closely with other operators which should see the game launched elsewhere over the coming months. The CEO and Co-Founder of Be The House, Seth Freedman, stated that this new product is the most ground-breaking development in roulette's 300-year history. He went on to say that Cash Out Roulette does not cannibalise anyone who enjoys traditional roulette but simply offers a new and exciting alternative.
Established in 2014, Be The House was created by Mr Freedman and his business partner Andrew Woolfson to bring their concept of Cash Out Roulette into an actual working game.