What does 243 ways to win mean?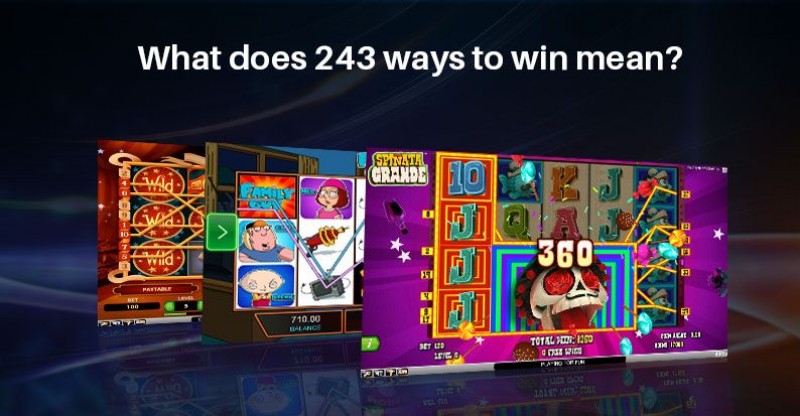 The evolution of online slots has witnessed an increasing number of paylines to the point some players are left scratching their heads wondering what does 243 ways to win mean.
The current trend for slots offering multiple paylines is a far cry from the days when players could win only if their symbols matched up in a winning combination along the middle of three mechanical reels.
With the advancement of video slots, casino games developers have been able to introduce more and more paylines into their slots. Three-reel slots programmed to pay any winning combination connected vertically or horizontally provided eight paylines like the winning line on a noughts and crosses game.
The number off paylines took a jump with five-reel slots and pretty soon developers have moved on to 243 ways to win. It may seem confusing to a player trying to figure out all the various paylines and that's because 243 ways to win slots actually eliminate paylines and all that's required is prize symbols to land on adjacent reels, they can be visible anywhere on the screen. Therefore, when you are playing a 243 ways to win slot every symbol effectively functions like a scatter symbol, from the most basic to the most lucrative.
It is simple mathematics to calculate 243 ways to win. Each reel has three visible symbols and each symbol can be combined with a single symbol appearing on every other reel. With three possibilities for each reel, simply multiply 3 by the power of the number of reels. So in the example of five reel games, 3x3x3x3x3, this equals 243 ways to win.
Many slots give the option to remove paylines which reduces the cost per spin of the reels but gives fewer chances to win from any given spin. The advantage of 243 ways to win slots is the player isn't required to pay for each potential winning combination. Set the coin value and all possible ways to win are covered which means the chances of collecting a payout have been dramatically increased.
The catalyst for the 243 ways to win slots was leading casino software developer Microgaming. The concept had been explored by land-based slots developers but it was the advent of online casinos and the huge popularity of online slots that brought 243 ways to win slots to prominence. Players demonstrated an appetite for unique betting opportunities and there was a demand for a greater number of paylines.
Microgaming made 243 ways to win slots their trademark speciality but other developers like NetEnt and Playtech recognised the need to provide players with features they want and soon began tpprovide their own versions of 243 ways to win slots.
It hasn't taken long for slots to progress from a single payline to 243 ways to win as the standard and already there are slots appearing which offer 720 and 1024 ways to win. How far the industry will go no-one can tell but if it adds value and fun to the gameplay, slots player will welcome the changes with open arms.