If you want access to a selection of the best-loved online casino games and mobile slots all in one place then you need to take a look at the Coral Vegas Casino App. With great casino rewards and exclusive casino bonuses, there is a lot to like about this slick and fast performing app from Coral.
Download and install the Coral Vegas App to your IOS mobile device and as a new player, you can claim an exclusive casino welcome bonus available just for Coral Vegas players. The welcome package is worth a total of £400 in bonuses with a 100% cash match on your first deposit up to £200. You then get a 50% bonus up to £100 on your second deposit and your 25% bonus up to £100 on a third deposit. You can use this free casino cash on their selection of card and table games, slots and jackpots.
For customers accessing Coral Vegas from the UK, the service is licensed and regulated by the UK Gambling Commission.
How to Access the Coral Vegas Casino App
If you are reading this review on a desktop PC then you can register with Coral Vegas first and then download the app later as per the instructions that are shown next. To get the Coral Vegas Casino App for your iOS device, just visit the app stor and search for Coral Vegas. Once you have found the app, simply download it and you'll be ready to play once it is installed.
App Editor Rating
Has Free To Play
No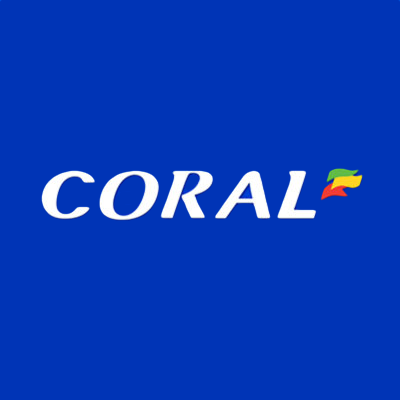 Read the Coral Casino Review to find out if they meet your requirements. Read
Coral Vegas Casino App Review
The Coral Vegas Casino App is a very modern app and is extremely comfortable to use because of how fluid the navigation feels. When you first open the app you will be asked to turn on location settings to verify that you are a UK player. You will then be asked to set your push notification preferences. Once you are passed these messages the main Coral Vegas Casino app will load.
Images are a great way to allow anyone to quickly understand what's going on and this app is basically designed using game images and promotional images. These are all laid out in rows that can be swiped from left to right. This is very much like using something similar to the Netflix app if you have ever used it. Selecting a row and moving the images across the screen is extremely quick as this app is so responsive. The game images can quickly fly by all dependant on how quick or slow you want to flick through them.
These mobile game images are very clear and bright and as anyone using a mobile device is aware you will just need to tap an image to either find out more information or play a particular game. Before we get to that part, the very top of the app has the option for you to either log into an existing account or join as a new member. In the top left corner, you will see a link to open up an in-app menu.
Once you are logged in and access this menu area you will find all your account details along with the ability to deposit and withdraw. There are also links to the current Coral Vegas promotions, legal information such as terms and conditions, a help center and a contact us section. You will also have one-click access to other mobile apps available by Coral. Simply tapping the cross in the top right-hand corner will hide this menu.
Getting back to the main screen you see that the top row consists of a selection of the newest mobile casino games available. Below this row is a row consisting of current promotions and offers, all displayed with slightly larger images to stand out from the games. Then, the rows below consist of fruits, 7's and gem games then followed by Vegas Jackpots. Next are bonus feature slots, then free spins & reel band action slots followed by Vegas tables, 5 line games, 10 line games and finally multiline slots. Just swipe up and down the screen of your mobile device to the desired row. Then swipe left and right to view the games for that category.
Selecting any game you wish to play will bring up a screen that allows you to view some basic information about that particular game and a button giving you the option to play. Selecting play will bring up the login screen that includes an option to join if you are not yet a member. There is no free play option for the games so will need to have an account to play them.
The Coral Vegas Casino App currently has just 36 mobile casino games but more are due to be added. Of the games that are available, these are some of the most popular including progressive jackpots like Jackpot Giant. There are well-known titles such as Rainbow Riches and Centurion. You can also play mobile roulette and blackjack along with live dealer versions of these games and live baccarat.
As we said at the beginning there is a lot to like about the Coral Vegas App and it well worth installing on your mobile device.
Compatibility
The Coral Vegas Casino App is compatible on iPhone with iOS version 8.1 (or higher) and is available to download on iPhone, iPad and iPod Touch.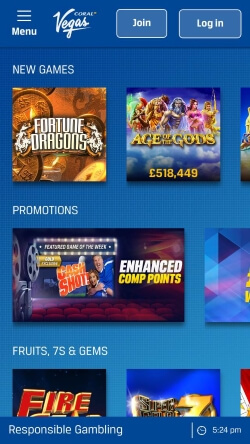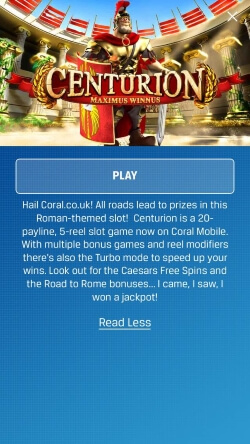 Reasons to use the Coral Vegas Casino App
Exclusive welcome offer

Fast and responsive

High-quality games

Live dealer games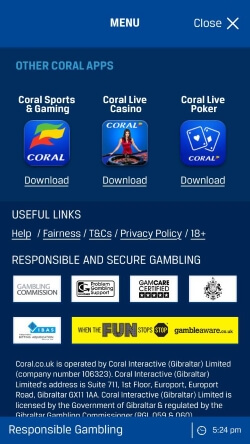 Related News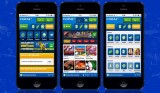 Coral is one of the best-known gambling brands in the UK, providing betting and gaming products in the high street,…
Read More