Big Kahuna: Snakes & Ladders
It's time to head back to Hawaii to play Big Kahuna: Snakes & Ladders, the exciting follow-up to Big Kahuna slot. More refined graphics and sounds are not the only new features that Microgaming has introduced here. This video slot has wilds that double winnings and two bonus features. You can be randomly awarded 5 free spins at any time and scatter symbols combine to trigger an exciting snakes & ladders bonus game.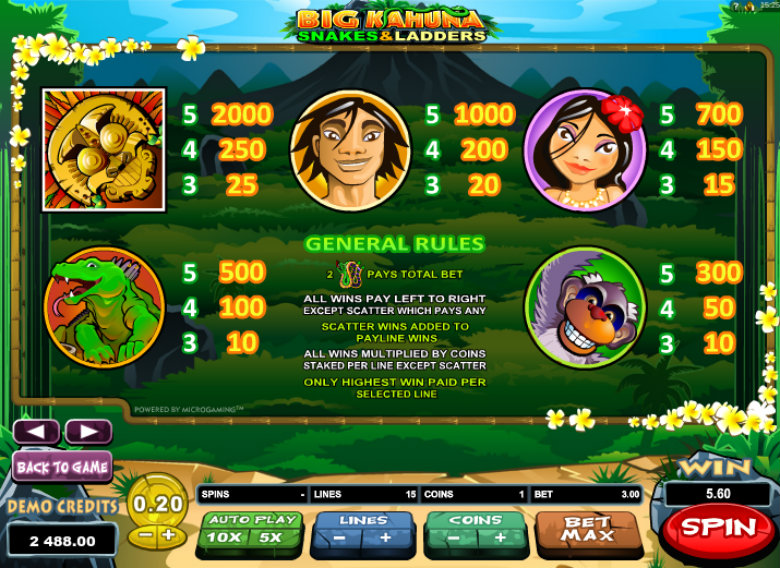 How To Play Big Kahuna: Snakes & Ladders Slot
Big Kahuna: Snakes & Ladders video slot is easy enough to play but as with all online slots, its best to know what you're dealing with before taking the plunge. Click on 'View Pays' beneath the leftmost reel to open up the paytable where you can learn about the game's special features.

You'll see that the best paying standard symbol is the Tiki mask. Get 5 of a kind for a payout worth 2,000x your bet line stake. Wild symbols substitute for all symbols except scatter symbols and double wins when doing so. They can also combine with one another for a payout of up to 5,000x your bet line stakle for 5 of a kind. Winning combinations are formed when matching symbols appear in succession from left to right on an active bet line, beginning at the leftmost reel.

The exception to this rule is for scatter symbols which combine irrespective of bet lines. Get 2 scatters for a return equal to your bet, plus any bet line winnings will also be paid. Get a scatter symbol on reel 1, 3 and 5 simultaneously to trigger the Snakes & Ladders Bonus.

Here you will be on a quest to retrieve Kahuna's stolen mask. The bonus game is just like the children's board game; Snakes & Ladders. Roll the dice to advance, with ladders offering shortcuts and snakes moving you back. Anytime you roll a 6, you will be given a free roll, up to two free rolls per dice. You can collect your current win at any time to end the game early, if you think the path ahead looks too dangerous. Make it all the way to win the maximum prize of 100x your overall bet.

There is also a random free spins game which is triggered at random. Here you will get 5 free spins, during which all wins are doubled and wild substitution wins are quadrupled. In the event that the free spins are awarded on a spin that triggers the Snakes & Ladders Bonus, the bonus feature will be played first, followed by the free spins.

Setting up this game is very simple and takes only a matter of seconds. Click 'Expert' on the taskbar to open up the full range of user options. You can then use the '+' & '-' arrows to set your number of bet lines, coin value and number of coins. Check the total cost per spin under 'Bet' and click 'Spin' once you're happy to begin.

You can also click '10x or '5x' to play the stated number of spins or 'Autoplay' to customise the auto spin feature. Be careful when clicking 'Bet Max' as the cost per spin will be 300 times the chosen coin value. You can turn on/off volume via the speaker icon in the top-right. The question mark opens up a help menu with more detailed game instructions.
Big Kahuna: Snakes & Ladders Slot Tips
You can play Big Kahuna: Snakes & Ladders at Microgaming casino operators such as 188BET Casino and Redbet Casino. It's not featured in any welcome packages but is playable with bonus cash. The return to player (RTP) could be better but because this game offers plenty of low-key wins, you can use it to play through the wagering requirements of a casino bonus.

Big wins are possible on this slot but we found them hard to come by. The free spins feature is randomly activated and in our testing, may as well have not been there for what we won. However, as wins in free spins are doubled, any win with a wild substitution will be effectively quadrupled. Therefore, if you were to spin in 4 tiki masks and a wild, your return would be a whopping 8,000x your bet line stake. The game states that you can win up to 200,000 coins on this feature which is equivalent to £50,000 when high-rolling at the maximum bet limits.

The Snakes & Ladders Bonus seemed to be more fruitful and we triggered it more often. It can be cruel at times, as just when things are going well, you slip back down on a snake. With this in mind, remember to consider ending the feature early when you're in a good position. When playing with all bet lines active at £3 per spin, the best we managed was an £87 return as we kept landing on snakes but you can win up to 30,000 coins if you get lucky.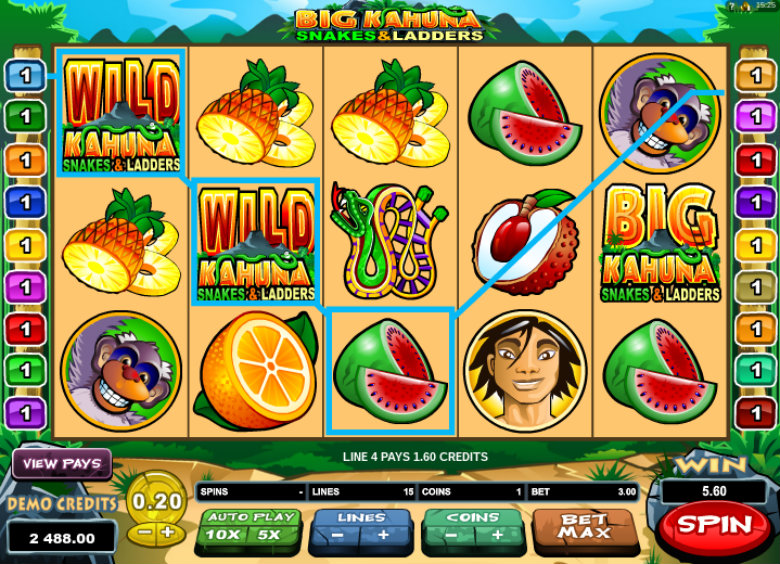 Is Big Kahuna: Snakes & Ladders The Right Slot For You?
Big Kahuna: Snakes & Ladders online slot rates as a low to medium variance game that offers plenty of small returns. Bigger wins are possible but you'll mainly be looking at wins that are enough to keep your balance topped up, so you can play for longer.

The RTP is 95.53% which isn't terrible but there are more favourable games out there. The casino's house edge of 4.47% is by no means big but you will have to accept losses over long-term play.

In terms of gameplay, this slot has some nice touches. When the bonus game begins, you'll be handed a medallion and see that Big Kahuna has a bag over his head, as his mask is missing. You'll then head up the mountain and enter the game, where three heads hanging on a line jeer you. They'll make comments like "This one looks a little wet behind the ears" followed by "Back so soon? Must be a sucker for punishment" on subsequent visits to the feature and "Better luck next time monkey boy" when you've had a bad round.

The bonus feature is genuine fun to play and does break up the play. Other than that, it's a very straightforward slot with minimalist animations that do not interrupt your flow. There is no quick spin feature but the gameplay is relatively brisk. It's certainly a lot more modern than it's predecessor but in terms of enjoyment, there is little to pick between this game and the original Big Kahuna.
More games in Video Slots