Machine Gun Unicorn is a zany video slot that features crazy zombie killing, bloodthirsty ponies and unicorns. As the story goes, a peaceful land once occupied by ponies was invaded by zombies and the population was almost wiped out. Then came the hero, a unicorn with a machine gun on it's head – yes your read that correctly!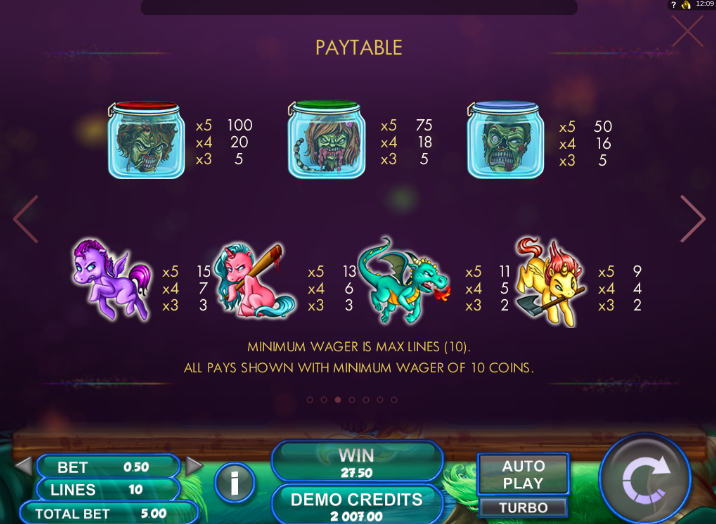 How To Play Machine Gun Unicorn Slot
Machine Gun Unicorn online slot is a very straightforward game to play but we always recommend taking a look at the paytable before you begin. Click the purple 'i' to see the values for each prize symbol, bet line mappings and how the special features work.

The zombie jar with a red lid is the most valuable symbol. Get 5 of a kind for a return worth 100x your bet line stake. In order to make a winning combination, matching symbols must appear in succession from left to right, starting at either reel.

The Machine Gun Unicorn symbol appears on reel 3 only and acts as a wild to substitute for all other symbols. Whenever it is in play, all zombie-head symbols will explode to award extra winnings. The more zombie heads that are blown up, the higher the win will be. If there are no zombie heads when the unicorn spins in, you will be awarded a consolation prize.

Setting up the game couldn't be easier, just use the arrow symbols next to 'Bet' in the bottom-left corner to set your stake. The cost per bet line is displayed above and the total cost per spin is shown below. When you're happy to proceed, click the purple circle with a white arrow located in the bottom-right to spin the reels.

You can click 'Turbo' to speed up the reels and make gameplay a bit faster. Use 'Autoplay' if you don't want to click for each spin of the reels. You can turn on/off sounds with the speaker icon in the top-right and the question mark opens up a help menu.
Machine Gun Unicorn Slot Tips
You can play Machine Gun Unicorn at Video Slots. It's not featured in any free spins or welcome packages but can be played with bonus cash if you wish. In fact, because this slot tends to pay out frequent small amounts, it's a good choice for playing through the wagering requirements of a casino bonus.

For the most part, wins in this game tend to be on the small side with no multipliers or free spins to speak of. You'll get plenty of these smaller wins though, as you can win both ways on this slot. The prize symbols are stacked which makes it possible to get some better returns when the unicorn symbol spins in with stacked zombie heads. The Symbol Bombs Feature gives you the potential to win up to 200x your bet when the machine gun unicorn makes the zombies' heads explode.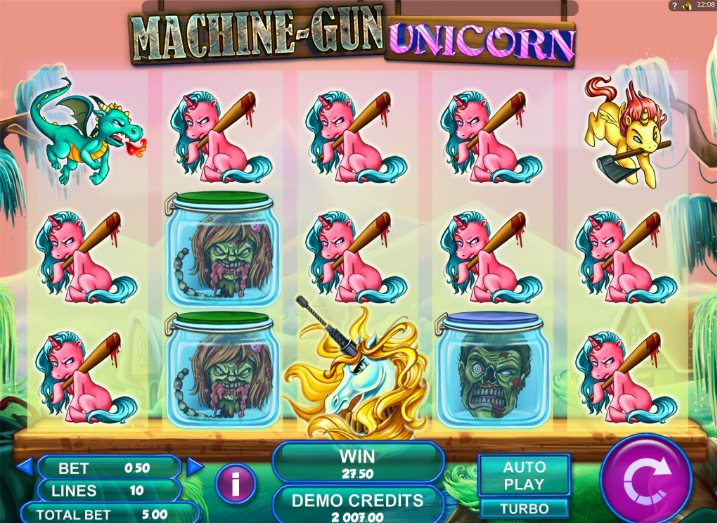 Is Machine Gun Unicorn The Right Slot For You?
Machine Gun Unicorn video slot is ideal if you're looking to maximise the entertainment from your bankroll, without expecting to get rich quick. As long as you stick to a sensible bet size, you should get plenty of spins for your money. It's a low variance slot with a theoretical return to player (RTP) of 97.18%, leaving the casino with a small house edge of just 2.82%. Given the way the game plays, these are good terms for wagering through a bonus.

It's a really energetic slot with no real suspense or intrigue. It's straight-up reel-spinning action from start to finish with no bonus games to slow things down. Initiating turbo mood will make things faster still, making it perfect for rapid-fire slots players.

The animations on this slot are pretty funny, particularly when the Machine Gun Unicorn starts firing bullets from his head at the zombies. When you get a 'Big Win' a zombie will pop onto the screen and wave a white flag before your coins are totted up. The animated rainbow effect is also pretty neat as it whooshes in and swirls around your winning symbols.

More games in Video Slots