Tales of Krakow is a medieval fantasy slot that is set in the Polish Golden Age. You'll see legends of Polish folklore such as the Wawel Dragon, King Boleslaw and the Trumpeter on the reels of this NetEnt slot. First released in 2007, it does not have the high-quality graphics of today's NetEnt releases but visually, is on a par with recent games by most of the lesser known developers and the gameplay is top-notch.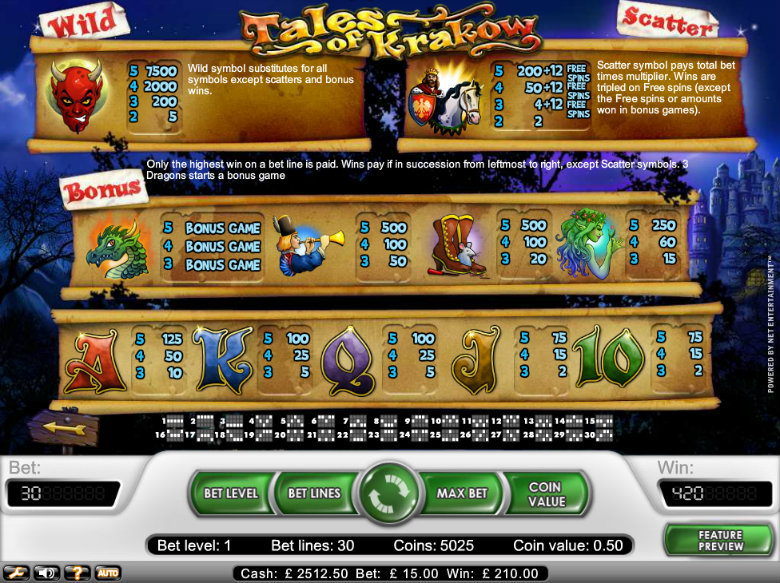 How To Play Tales of Krakow Slot
Although Tales of Krakow slot is simple and straightforward to play, we recommend taking a moment to familiarize yourself with the prize symbols. Click on 'Paytable' beneath the leftmost reel to see the mappings for each bet line and how the special features work.

Starting with the standard symbols, the trumpeter is the most valuable at 500 coins (bet level 1) for 5 in a row on any active bet line. In order to make a winning combination, the symbols must be in succession from left to right, beginning at the leftmost reel.

Wild symbols are represented by a sinister looking demon with the moon in the background. Wilds substitute for all other symbols except scatters and bonus symbols. On top of this, they also combine to make the jackpot payline with 5 in a row worth 7,500 coins at bet level 1.

Scatter symbols are denoted by the King riding his horse and do not need to be on the same bet line. Get 2 or more scatters anywhere on the reels to have a multiplier applied to your bet for that spin, up to 200x for 5 scatter symbols. Get 3 or more scatter symbols for a round of 12 free spins where wins are given a 3x multiplier. You can win further free spins and enter the bonus game during free spins but these will be exempt from the triple wins.

Get 3 or more dragon symbols on an active bet line to enter the bonus game. Here, the aim of the game is to find the bonus coins hidden within the dragon's eggs but find an empty egg and the bonus game will be over. The bottom level of 5 eggs each contains a prize while the middle tier has 1 empty egg and 2 prizes and the top level is a 50-50 shot with 1 prize and 1 empty egg.

Setting up the game is easy to do and takes a matter of seconds. Start by clicking 'Bet Lines' to activate the number of bet lines you wish to play, noting the path each one takes across the reels. Then click 'Bet Level' which will determine the number of coins placed on each active bet line. Finally, set your 'Coin Value', remembering that the overall cost per spin will be affected by all three settings combined. For example; with all bet lines active, a coin value of 0.05 at bet level 2 will cost 3.00 per spin (0.05 x 2 = 0.10 x 30 bet lines = 3.00). The 'Max Bet' button will automatically activate all bet lines and set the bet level to 4. With this in mind, be sure to set your coin value first as the cost per spin will be 120 times the coin value displayed.

There are a couple of ways to personalise the game by using the icons in the bottom left. The spanner enables you to toggle ambient sound and sound effects individually while the overall volume is controlled with the speaker icon. The question mark opens up the help menu and the Auto button allows you to set up the auto spin feature.

To begin playing Tales of Krakow video slot, either use the auto spin feature or click the green circle with white arrows. You can execute a skill stop by clicking the spin button again while the reels are still moving.
Tales of Krakow Slot Tips
Tales of Krakow is hard to find but can be played at NetEnt casinos Video Slots and Reel Island. It's not available on mobile and you won't see it featured in any welcome packages or casino promotions.

It's a middle of the road game that doesn't offer huge wins or regular payouts. The return to player (RTP) is not favourable, so it's best to avoid this game when trying to reach the wagering requirements of a casino bonus. You'll be looking at a low frequency of mid-level prizes when playing this slot.

Wilds help to keep a few low-key wins ticking over in the base game but are not an overly active feature. The bonus game can be rewarding if your luck is in and can be unlocked quite often in this game. However, it's the free spins game that offers the best chance of a big win. You will most likely have to wait quite a while to get 3 or more scatters but as the free spins wins are tripled your patience may just pay off. Hitting the jackpot payline in the free spins game will be worth 22,500 coins at bet level 1 which is enough to make anyone's day.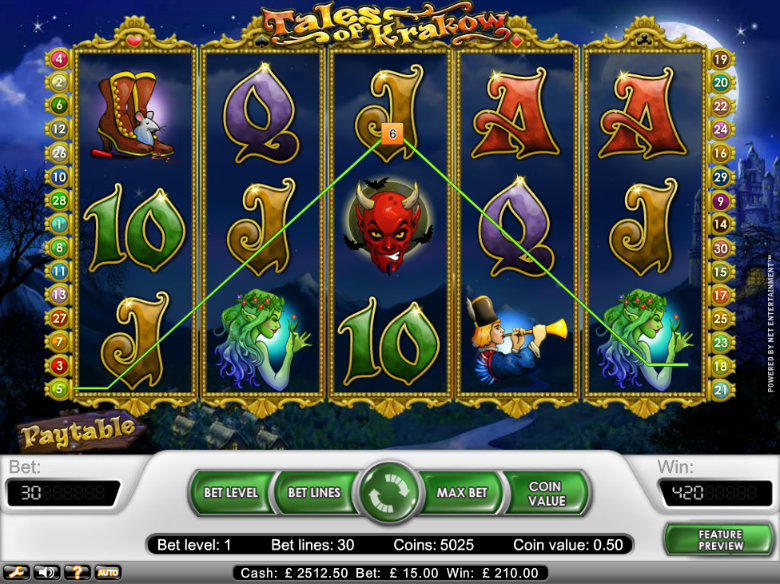 Is Tales of Krakow The Right Slot For You?
Tales of Krakow online slot is a medium variance game that offers small to medium prizes with an average regularity of winning combinations being made. The RTP is quite low at 93.3% which gives the casino a house edge of 6.7%. This is certainly something to bear in mind when playing this slot and suggests that sporadically approaching the game with an expendable bankroll is best practice as long-term play is unlikely to be profitable.

The tempo of the game is fairly brisk despite there being no quick spin feature. This is because animations are short lived and do not interrupt the flow of the game. The bonus game, while exciting to play, can also be played swiftly, so this is a slot that will suit rapid-fire players who like to rattle through a load of spins. The free spins game could probably be made more exciting as it follows the same pattern as the main game.

Fans of other mythical and fantasy NetEnt slots such as Crusade of Fortune and Excalibur are sure to appreciate this game which has a few nice features to add to your enjoyment when spinning the reels.
More games in Video Slots