300 Shields is a NextGen slot that is based on the legend of the 300 Spartans at the Battle of Thermopylae, which has also inspired numerous comics and feature films. It's a great looking video slot that allows you to battle for wins on desktop and mobile.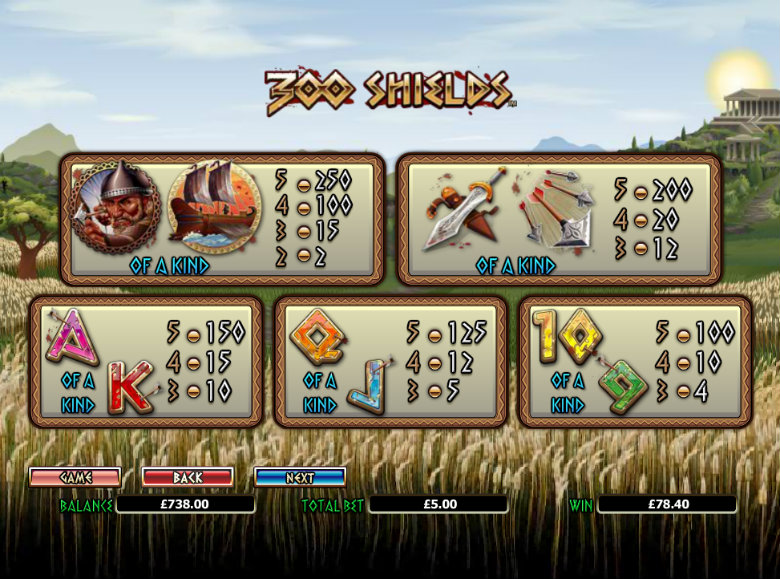 How To Play 300 Shields Slot
300 Shields online slot is a very straightforward game to play but it's always a good idea to review the paytable before you spin the reels. Click the red 'Info' button below the leftmost reel to view the values for each prize symbol and mappings for each bet line.

The bearded archer and ship symbols have equal value and pay best of the standard icons. Get 5 of a kind on any active bet line for a 250 coin return. It's also worth noting that these symbols will pay out for 2 in a row. In order to get a return, matching symbols must appear in succession from left to right on any active bet line, starting at the leftmost reel.

The spartan warrior is the face of the wild symbols. Wilds substitute for all symbols except scatter symbols which make multiple winning bet lines a real possibility. They can also combine with one another, with 5 required to land the 1,000 coin jackpot.

Scatter symbols are denoted by a shield and do not need to appear on the same bet line. If 3 or more scatters appear, you will be awarded 5 free spins during which any wins with a wild are doubled. If on any of your free spins, 3 more scatters spin in, then a further 5 free spins will be awarded. In addition to this, each scatter symbol that spins in will be collected and trigger additional multipliers. If you collect 2 or more scatters, a further 5 free spins will be awarded  a 5x wild multiplier. If you collect 6 or more scatters, a further 5 free spins will be awarded a 25x wild multiplier. If you collect 12 or more scatters, a further 5 free spins will be awarded  a 300x wild multiplier.

Whenever you get a win you will have the option to gamble. In doing so you risk your winnings but can either double or quadruple your returns. You will be asked to pick a colour to double up or a suit to try and quadruple your win. A random card will then be turned over to show whether or not you have won.

Setting up the game takes a matter of seconds and there are only two adjustments to make. Begin by setting the number of bet lines with the + & – icons. Then, select your coin value, remembering that the cost per spin will be reliant on the number of bet lines. Once you're happy to proceed, simply click the green 'Spin' button. Alternatively, you can click ' Autoplay 'if you don't wish to click for each spin of the reels. If at any point you wish to mute the game, simply click the speaker icon near the bottom of the leftmost reel.
300 Shields Slot Tips
300 Shields slot is a popular game that can be played at BetVictor Casino and Casino Floor. It's not usually the headline of any welcome packages but can be played with bonus cash if you wish. However, if you're hoping to beat the wagering requirements of an online casino bonus then it's a poor choice. This game is very risky and not for the faint-hearted, with long barren spells between any notable wins.

However, when those wins come, they can be very big indeed. Generally speaking, the base game offers a handful of low-key returns. This is helped by the top paying standard symbols only requiring 2 in succession for a payout and the appearance of wild symbols. Hitting the feature is key to getting a sizable return. If you're lucky enough to get the 12 scatter symbols during free spins then your wild wins will be given a 300x multiplier, giving you the potential to pick up some serious casino rewards.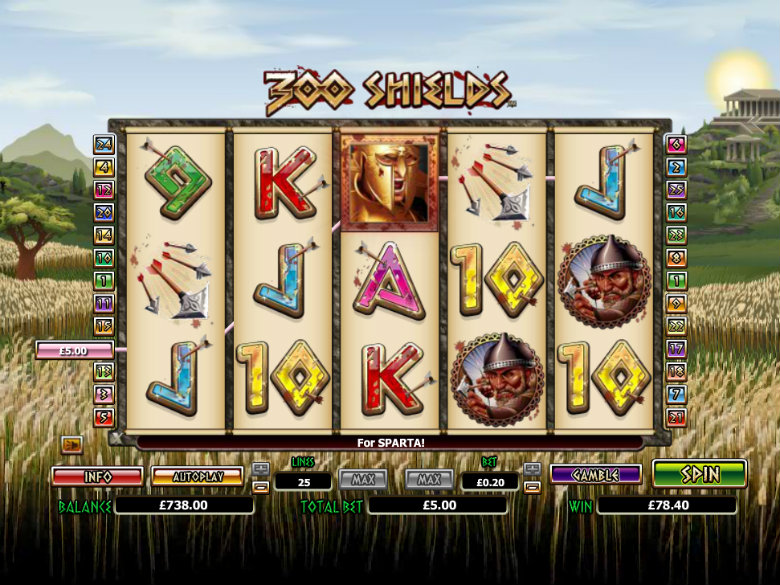 Is 300 Shields The Right Slot For You?
If you're not interested in mediocre wins and are happy to throw some cash at a game in the hope of a big payday, 300 Shields video slot is ideal. It's a high variance slot which requires patience and a suitable bankroll to play. You will need to be prepared to ride out some dry spells and accept losses in pursuit of a big win.

The return to player (RTP) is 95.3% which gives the casino a house edge of 4.7%. This is fairly good for an online slot without being remarkable. Given that this is such a volatile game to play, it's best approached with hope, rather than expectation.

If you like historical slots and want to try something a little less risky while retaining the chance to cop a big win, then we suggest NetEnt's Victorious which is based on the Roman Empire.

More games in Video Slots