Go Bananas is a jungle based slot that is packed with fun, by top casino software developers NetEnt. The apes and monkeys in this game are always up to mischief as they swing onto the reels to give you winnings in the form of fresh fruits and precious gems. Go Bananas offers easygoing play and hours of fun, whenever you fancy a few spins.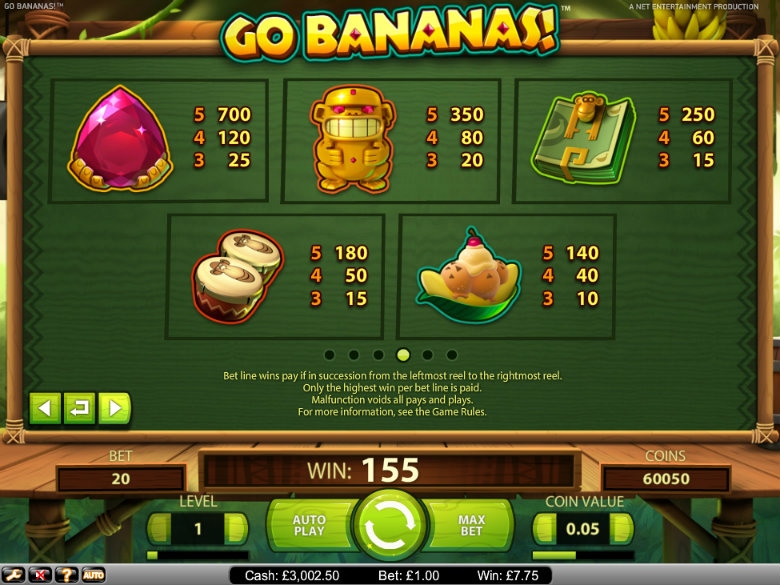 How To Play Go Bananas Slot
It's always a good idea to learn how the prize symbols and wilds work before you play slots online. Click the 'i' in the bottom left to open up the paytable and review the mappings for each bet line.

You'll see that the gemstone is the most valuable symbol at 700 coins for 5 in a row, from left to right on any bet line (bet level 1). Other than this, you'll be hoping that one of the monkey wilds spins into play to create multiple winning combinations. This is because expanding wild symbols substitute for all symbols to make the highest possible winning combination on a bet line.

The wild gorilla will turn 4 diagonally adjacent symbols into wilds, creating a cluster of 5 wilds that covers each row. The wild orangutan makes a square block of 4 wilds and the baboon wild is a strip of 3 wilds covering an entire reel. The langur wild is a row of three wilds that encompass 3 reels and the tarsier wild is a pair of wilds that appear either horizontally or vertically.

As the bet lines in this game are fixed, you will only need to make 2 adjustments before spinning the reels. Use the arrows or sliders to set your bet level and coin value, remembering that both settings along with the number of bet lines will affect the overall cost per spin. For example; a coin value of 0.05 at bet level 3 will cost 3.00 per spin (0.05 x 3 = 0.15 x 20 bet lines = 3.00).

The Max Bet button will automatically set the bet level to 10 and initiate a spin, so you must remember to first set the coin value before you bet as the cost per spin will be 200 times the coin value displayed.
Preferences can be adjusted to your personal taste via four icons on the bottom left of the screen. The spanner icon provides on/off options for graphics, audio, keyboard control, and features such as quick spin, animations and intro screen. Volume is adjusted via the speaker icon and the question mark opens the help menu. The Auto button allows you set the number of spins to be executed when you press Autoplay and has advanced options to control when to stop the feature.

To begin playing Go Bananas video slot, click the green button with white arrows in the center or hit Autoplay if you don't want to click for each spin of the wheel. You can execute a skill stop by clicking the spin button again before the reels come to rest.

Go Bananas Slot Tips
Go Bananas online slot is widely available among top NetEnt Casino operators such as Slotty Vegas, Casino Luck and Casino Room to name but a few. You won't see it featured in any welcome packages but is ideal for meeting the wagering requirements of an online casino bonus. This is because you'll get regular small to mid-level prizes and the return to player (RTP) is favourable. Conversely, this is not a slot to target if you're expecting to win a life-changing amount of cash.

The different wild symbols in this game are extremely active. This means that every few spins you have the potential to make a nice winning combo. The gorilla wild is best as 5 symbols will turn into wilds, giving you a very good chance of hitting a winning bet line. Naturally these are rarer than the other wilds, but all wilds offer a coverage of 2 icons at the very least. If you're lucky enough to complete a winning bet line with 5 diamonds, you'll get the jackpot payout of 700 coins.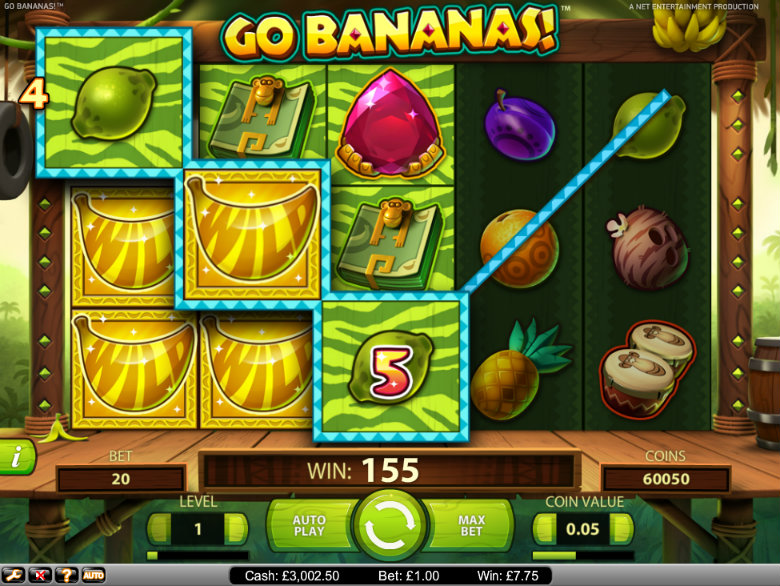 Is Go Bananas The Right Slot For You?
Go Bananas slot is a low variance game that is relatively low-risk to play and offers a steady stream of low-key wins. The RTP is 96.9% which is very good for an online slot. The casino only has a house edge of 3.1% here, which given the way the game plays, makes it ideal for trying to beat a bonus.

It's a very fun game to play too. The various primates that swing onto the screen each have their own animation and character. This does break up the play somewhat, so rapid-fire slots players may wish to turn off the animations. There are no bonus games or free spins, so you may want to check out NetEnt's Jungle Games if you want to play a game from the same genre with more features.

If you like the way this game plays and are looking for something with a little more risk and reward, then you should take a look at Fisticuffs which is also by NetEnt.
More games in Video Slots