Blood Suckers online slot is one of the most popular online casino games from the horror genre. It's a vampire-based game created by leading software company NetEnt. It plays on desktop and mobile devices, so you can expect to sink your teeth into some high-quality graphics and sound effects at your convenience.
Bloodsuckers is a 5-reel slot that features 25 bet lines and 4 bet levels. The smallest coin value is 0.01, so you can play from as little as 25p per spin with all paylines active. With the highest bet level selected and the maximum coin value of 0.50 set, you can bet as much as £50 per spin. The biggest individual winning line on the paytable is 7,500 coins which equates to £15,000 when betting at the maximum limits.

Aside from the standard symbols, there are three main feature symbols to look out for. There are scatter symbols that initially act as a multiplier of the overall bet but also offer free spins when 3 or more are combined. There are bonus symbols which initiate a suspenseful bonus game when 3 or more are in succession from left to right on any payline. There are also wilds which substitute for all symbols except scatter symbols and bonus symbols, giving you a greater chance of making a winning combination.

The reels are positioned against an antique mirror that is topped by a bat with glowing eyes, which creates a fascinating gothic backdrop. A howling wind provides the ambience for this eerie and mysterious slot game. The sound effects are reminiscent of those used in external shots of Count Dracula's castle in classic vampire movies. The general gameplay is smooth and there aren't many sounds or animations apart from a jolting noise when a scatter symbol spins in. The low-key play really adds to the shock element when you hit a winning line. It's at this point that there are some scary animations and sound effects to give horror fans a real thrill.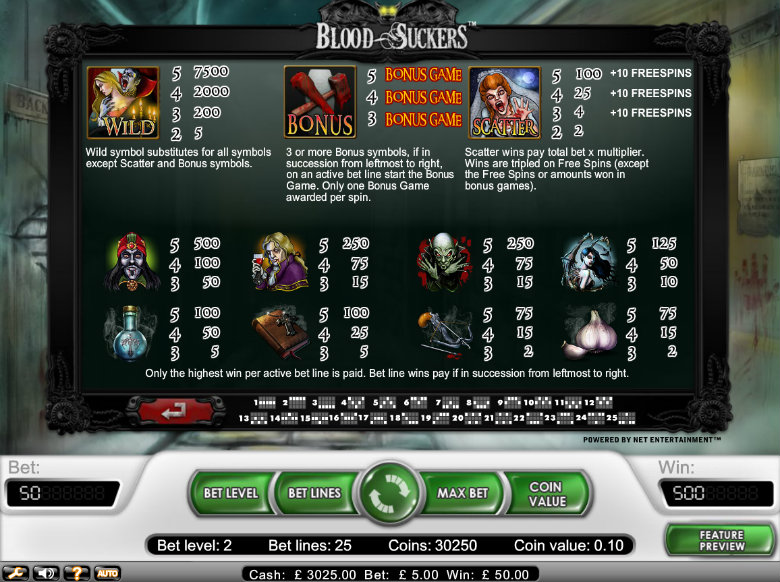 How To Play Blood Suckers Slot
Taking a moment to familiarise yourself with the paytable is always a good idea before you play slots online. Tap or click on the 'Paytable' button located under the leftmost reel to see which symbol combinations make up the winning lines and what the attributed coin values are. These are really in keeping with the genre with things like vampires holding goblets of blood, bunches of garlic and an evil character that looks similar to Count Orlok from the iconic movie Nosferatu. You can also see the 25 combinations which make up each payline by viewing the different mappings in the paytable.
The biggest wins come from the Dracula wilds which pay 7,500 coins for a combination of five symbols from the leftmost reel. The scatter symbols act as a multiplier of your total stake for that spin, up to 100x for five in a row. Get 3 or more scatter symbols and you'll also get an additional 10 free spins during which your wins will be tripled. 3 or more of the wooden stake and hammer bonus symbols on a payline will initiate the bonus game. This is really fun to play as you select random coffins to try and find and slay the hidden vampires. Each vampire has a different bonus value which is added to your total win. However, once you find an empty coffin, the bonus round is over.

You'll need to set the game up before playing and this takes no more than a few seconds. Clicking the 'Bet Level' button will multiply the number of coins used by the bet level displayed. The 'Bet Lines' button will add each bet line in sequence from the minimum of 1 up to the maximum of 25. You can then select your 'Coin Value', remembering that it will be multiplied by the bet level and the number of bet lines played. The 'Max Bet' button should be used with caution, as the cost per spin will be 100 times the coin value displayed and it will spin automatically. Be sure to set your coin value before using this feature.

There are customisable preferences in the bottom left that allow you to personalise the game a little. You can toggle the use of ambient sound or sound effects with the spanner symbol and control the overall volume of the slot by clicking on the speaker. Clicking the question mark will open up a separate window with a full rundown of the rules and how to play the game. The Auto button allows you pre-determine a number of spins to be executed and has advanced options to stop the feature when free spins or bonus rounds are unlocked, or certain cash thresholds are met.

Once you're happy with how the game is set up, simply click the green circle with two arrows to spin. Alternatively, you can initiate auto spins from the Auto menu.
Blood Suckers Slot Tips
Blood Suckers video slot can be found on almost every NetEnt software casino due its immense popularity. It's not a regular feature of any welcome offers but is an ideal game to play when trying to meet the wagering requirements of a bonus. This is because there are few barren spells and plenty of smallish wins that can come thick and fast. High rollers may be able to get some big returns on Bloodsuckers but generally speaking it does not offer life-changing wins.

There are still a few ways to get some sizeable wins on this game. The wilds increase your chances of making a winning combination and pay out the largest amount of coins on a single bet line at 7,500 for 5 in a row. Unlocking a free spins round is particularly rewarding with winnings trebled and the bonus round can also boost your betting bank, if you guess right and pick the correct coffins.

Blood Suckers is easy to play and can be played at a brisk pace, making it an ideal choice if you want to hit the wagering requirements before drawing down bonus winnings.

Is Blood Suckers The Right Slot For You?
Blood Suckers slot is a low to medium variance game. It gives regular low value wins for the most part. The RTP is 98% which is extremely good for an online slot. This gives the casino a house edge of just 2%, meaning that the majority of what the casino makes on this game is theoretically paid back to players. It's this combination of low risk and a high return to player that makes Bloodsuckers perfect for clearing the wagering requirement of a casino bonus.

The combination of suspense and well thought out animations make this game really fun to play. When winning scatter symbols spin in, the vampire bride comes to life and lunges forwards to give you a fright. The symbols then turn to an evil looking red eye that stares at you while you count up your winnings. The wild symbol springs to action in a similar manner with Dracula sinking his teeth into his latest victim, leaving blood dripping off his fangs and signature puncture wounds in her neck for lasting effect. There is genuine excitement during the free spins round as up-tempo music plays while you play for triple wins. The bonus game is really good too and helps to break up the play to add another element to the game whilst also being rewarding if your luck's in.
More games in Video Slots
Related News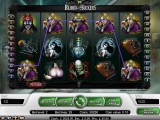 Royal Panda Casino has a ghoulish treat for you this Halloween. You can pick up free spins on selected online…
Read More