The festive themed Secret Santa slot by Microgaming was released in time for Christmas 2013 and is another of their holiday season slots like Happy Holidays. The title is a bit of a hint as to what is the unique feature of this game in that it is a secret as to what Santa is going to award you as a special random bonus. You simply have to play to find out!
Secret Santa by Microgaming is a 5-reel and 4-row video slot that offers a huge 1,024 possible winning combinations.There is a wild substitution symbol that can replace all symbols apart from the scatter symbol. The scatter symbol pays out as a multiple of the total bet staked rather than a multiple of the coin level as with other wins. There is a unique 5 of a kind feature and 7 mystery Secret Santa features that are awarded randomly. The Secret Santa online slot has a top prize of £82,500.
How to play Secret Santa Video Slot
You will instantly get that holiday season feeling when you load up the Secret Santa slot. It has an animated winter yuletide backdrop of looking down on a snow-covered village with snowflakes falling from the sky. The background of the reels is a deep red as you would associate with Santa and the symbols are made up of high-quality shapes and images.
There are no standard card type symbols included in this slot, however, they do use playing card suits in different gem looking colours with a golden trim. You then have 6 images that you would associate with Christmas such as the Turkey, Christmas Pudding, a cosy fire, a Christmas tree, a sack of toys and of course Santa himself. The scatter symbol is a Christmas Cracker and the Wild symbol is the game logo 'Secret Santa'.
Before you join in the festive fun with the Secret Santa slot you need to set your cost per spin. As we always recommend, make sure this is at a level you are comfortable to play at. Using the 'Bet' button at the bottom of the game screen you can set the coin size from 1p, 2p or 5p along with a multiplier of how many coins to bet. This can be set from 1 up to 10. The game is then set to a 50x multiplier so, for example, a 1p coin at 1 coin per spin would be 1x1x50 giving a cost per spin of 50p. Therefore, adjusting these options allows you to set the cost per spin to as little as 50p up to a maximum of £25.
To start playing the Secret Santa online slot you just need to select the oblong looking red button on the bottom right of the game screen marked 'Spin'. There is also an 'Auto Play' button along the bottom section of the game screen. Clicking the AutoPlay feature allows you to have the game spin the reels automatically. You can set the number of spins from 5 up to 100 or use the pre-set buttons for 10, 25, 50 or 100 spins. You can also set the game to continue to spin until you choose to select stop.
When playing the base game there is not too much going on. You are looking to match symbols as you would with any online slot and the use of the wild symbol can help your chances of attaining a win. The game incorporates a unique feature which is the 5 of a kind bonus. If you land a winning combination of 5 matching symbols, not only will you receive your win but all 5 symbols will then transform. They will change into another set of matching symbols giving you a second 5 of a kind cash prize.
However, unlike most other Microgaming slots where the scatter symbol is used to activate a bonus round, this is not the case here. The scatters simply pay a cash reward. What you are waiting for is the game to offer up a random bonus feature. There are 7 in total being Wild Reels, Wild Boost, Free Spins, Mystery Multiplier, Dashing Wild, Scatter Spree and Rolling Reels. At any time one of these bonuses can be awarded and you will have a mystery Christmas present appear on the screen and burst open revealing which one of the features you have received. Once the bonus round is complete you will be returned to the base game.
Secret Santa Video Slot Tips
Just underneath the first reel, you will  see a button labeled 'View Pays'. Selecting this will reveal a series of 4 screens that give information about the game including the main features as discussed above. You can also view the coin payout levels for the number of matching symbols. These screens are useful and help familiarise you with the game and what you need to do to get the best wins possible.
If you are new to playing the Secret Santa video slot, then it would be worth your while to try out the game for free at one of our recommended online casinos. This feature means you can learn how the game plays and see the main features in action before parting with your hard earned cash. You can switch to real cash play at any time. If you would like to play Secret Santa for free then you can at Betbright Casino. You will also be able to claim a welcome bonus as a new player making a first deposit and this will allow you to play on Secret Santa for even longer.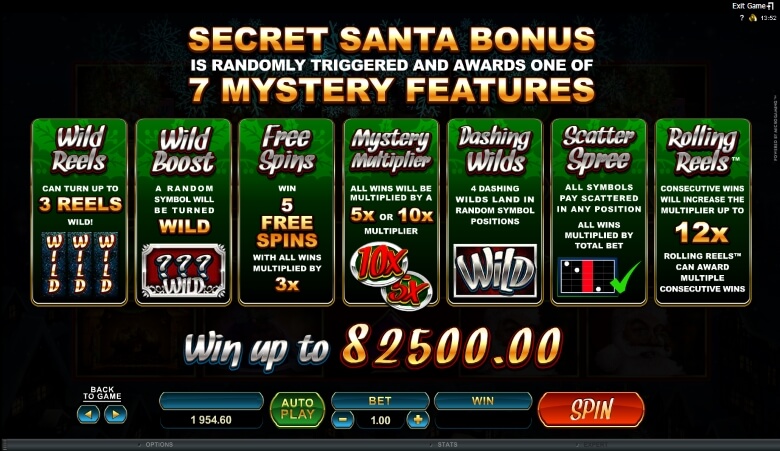 Is Secret Santa the right video slot for you?
The Secret Santa Slot by Microgaming has a theoretical RTP (return to player) of 96.32% giving a house edge of 3.68%. We tested the slot over 100 spins at a £1 cost per spin and found it to be a medium to high variance game. Although the design and styling of the game are very good along with the nifty animations, it didn't seem to have much of the Christmas spirit as far as big wins are concerned.
Although we never had a dry spell of more than 5 spins without a win, the wins were on most occasions small with the likes of 10p or 40p being a frequent cash prize. We would at times hit a 5 of a kind and the feature would kick in and change the symbols to another 5 of a kind award. This would bring in a slightly higher overall win. During the 100 spins, we only managed a Secret Santa mystery bonus once. This was an award of 5 free spins with a x3 multiplier yet we still only achieved a win of £2.40.
If you are looking to play the Secret Santa slot and aim for achieving the 7 bonuses then a free casino bonus could be a good way of extending your play without using your own real cash. Give the Secret Santa a try and let us know what you think?
More games in Video Slots