RoboJack is a video slot from the game's developer Microgaming and was released in conjunction with Fish Party back in July 2014. It is an online slot with a bit of an 80's and 90's arcade game retro feel about it with chains, cogs, steel and electric sparks all flying around the 5 different robots that are included in this slot.
RoboJack by Microgaming is a 5-reel, 3-row video slot with a total of 243 winning combinations. The game includes a free spins bonus round activated by the scatter symbols. This bonus round randomly awards a robot that offers special features to help you win more. There is also a wild substitution symbol that can replace all symbols apart from the scatter. The RoboJack online slot offers a top jackpot prize of £90,000.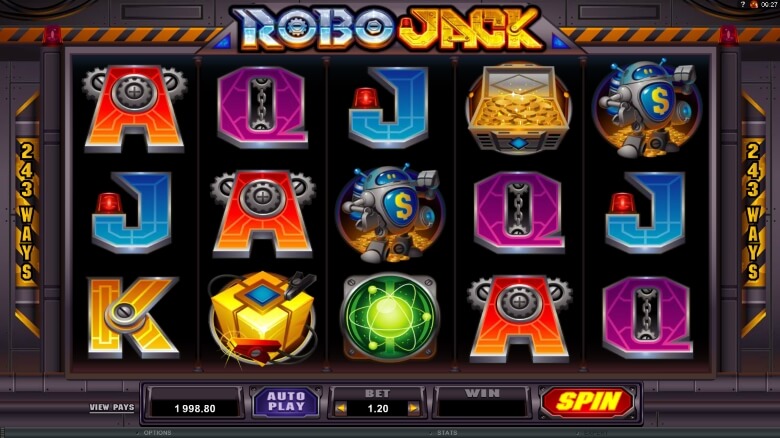 How to play RoboJack Video Slot
When the RoboJack video slot has loaded you will see that graphically it would easily suit an arcade transformers type of space game with its metallic looking backdrop in grey and black plus the brightly coloured mechanical looking symbols. It has good animations too that can see sparks fly, pistons pumping and cogs whirring.
As with the majority of Microgaming slots, this game includes a few standard card type symbols that are J, Q, K and A along with a green spinning globe of plasma, a gold box charged with electricity, a chest full of gold and a money robot. The game logo 'RoboJack' acts as the wild symbol. Finally, you have the scatter symbol and by landing at least 3 of these will activate the free spins bonus round.
Before you join in the fun with this robotic adventure you need to set your cost per spin. As we always recommend, make sure this is at a level you are comfortable to play at. Using the 'Bet' button at the bottom of the game screen you can set the coin size from 1p, 2p, 5p, 10p, 20p and 25p along with a multiplier of how many coins to bet. This can be set from 1 up to 10. The game is then set to a 30x multiplier so, for example, a 1p coin at 1 coin per spin would be 1x1x30 giving a cost per spin of 30p. Therefore, adjusting these options allows you to set the cost per spin to as little as 30p up to a maximum of £75.
To start playing the RoboJack online slot you just need to select the oblong looking red button on the bottom right of the game screen marked 'Spin'. There is also an 'Auto Play' button along the bottom section of the game screen. Clicking the AutoPlay feature allows you to have the game spin the reels automatically. You can set the number of spins from 5 up to 100 or use the pre-set buttons for 10, 25, 50 or 100 spins. You can also set the game to continue to spin until you choose to select stop.
When you play RoboJack you will find that it is visually a fun game to play however, you soon realise that the base game is not that exciting as you are simply matching symbols in one of the 243 possible combinations. The only extra feature is the wild symbol that will help you to achieve a win.
Ultimately you are trying to land at least 3 scatter symbols to activate the free spins bonus round. This is where the game really comes to life and you can achieve the biggest cash rewards. Once the bonus round is activated you will be awarded one of the 5 main robots. Each robot will award a different number of free spins and this is also dependant on how many scatter symbols you landed. Each robot also has an extra feature such as Extra Wilds, Extra Scatter Prizes, Wild Reels, Scatter Re-Triggers or Triple Wins.
Once you have been presented with your robot you can choose to keep it or have one chance at changing it for one of the other robots hidden inside a chamber. Choose a chamber and your new robot will be revealed and it will then be the number of spins and the extra feature for that robot that you will receive. Once the free spins bonus round has completed you will be returned to the base game.
RoboJack Video Slot Tips
Just underneath the first reel, you will  see a button labeled 'View Pays'. Selecting this will reveal a series of 5 screens that give information about the game including the main features as discussed above. You can also view the coin payout levels for the number of matching symbols. These screens are useful and help familiarise you with the game and what you need to do to get the best wins possible.
If you are new to playing the RoboJack video slot, then it would be worth your while to try out the game for free at one of our recommended online casinos. This feature means you can learn how the game plays and see the main features in action before parting with your hard earned cash. You can switch to real cash play at any time. If you would like to play RoboJack for free then you can at Mr. Green Casino. You will also be able to claim a welcome bonus as a new player making a first deposit and this will allow you to play on RoboJack slot for even longer.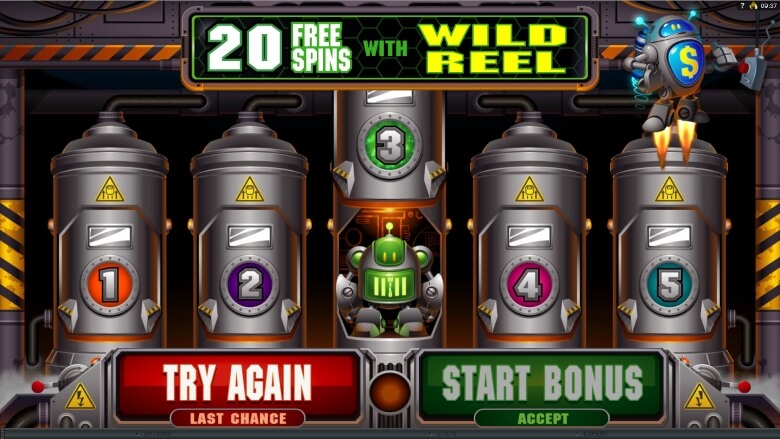 Is RoboJack the right video slot for you?
The RoboJack Slot by Microgaming has a theoretical RTP (return to player) of 95.77% giving a house edge of up to 4.23%. This game is a medium variance slot and may require some budgeting to get to the main feature. We tested the slot over an initial 100 spins at a £1.20 cost per spin and found it quite hit and miss as far as the frequency of wins. These wins were also varying in size and when a decent prize landed we then seemed to go a while before another and with plenty of dry spells. The longest was 15 spins without a win.
As the focus is on trying to land the free spins bonus round, the base game didn't take long before it became a bit tiresome without any features going on. It is when the bonus round activates that the excitement picks up. However, we had to play through a further 61 spins before we achieved this. The bonus round did then bring back all our losses and put us above our starting balance. RoboJack will, therefore, suit you if you are prepared to wait it out for the main free spins feature and this may be more worthwhile if you are using a free casino bonus rather than your own real cash.
More games in Video Slots