Crusade of Fortune is a fantasy slot featuring warriors, orcs and other mythical beings. It is a typically well-crafted NetEnt casino creation that plays in the style of traditional arcade slots and is available on desktop only.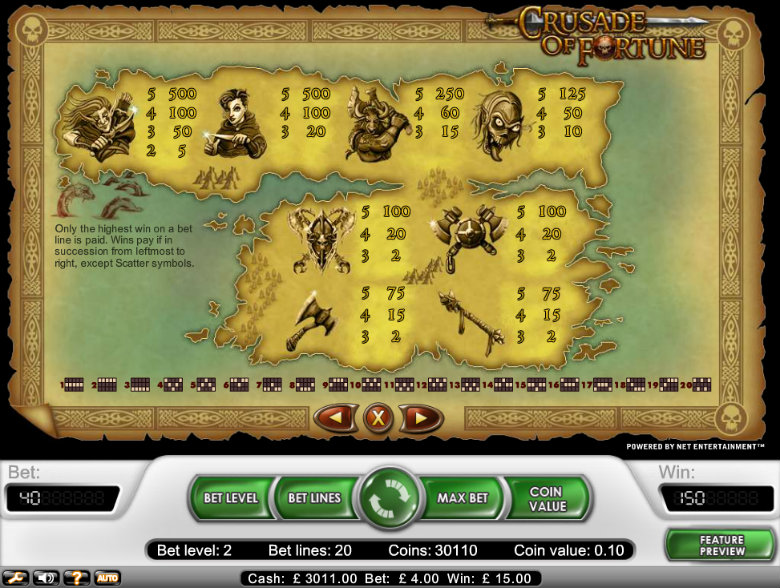 How To Play Crusade of Fortune
If you're planning on taking on the orc, then it's a good idea to know what you're up against. You can check out what all of the prize symbols represent and how the paylines are mapped by clicking on 'Paytable' in the bottom left.

The green elf with a dagger and woman with a dagger pay best of the standard symbols at 500 coins for 5 in a row. Next is the horned beast and then it's the green goblin. Other symbols include battle-axes, shields and maces. Bet line wins pay if in succession from leftmost to right.

Wilds are represented by a scantily clad sorceress holding a scepter. These substitute for all symbols apart from scatter symbols and bonus symbols. This in turn, helps you to make more winning pay lines in the game. Get 5 wilds in a row for a cool 5,000 coin return.

The scatter symbols feature a dwarf wielding an axe. Scatter wins pay as a multiplier of your stake of up to 200x for 5 located anywhere across any of the reels. Not only that but get 3 or more scatter symbols and you'll unlock some free spins. In the free spins round, any wins are paid x3, except for any bonus game winnings or additional free spins won in the free spins round.

The bonus symbol is denoted by an image of the orc with his sword drawn. 3 or more of these symbols on a bet line will start the bonus game. This is where you become the warrior and must try to defeat the orc. You will get up to three rounds to try and win the battle, each consisting of two stages. In the first stage, you must attack the orc, choosing a high, middle or low swing with your sword, which he will attempt to block. Any hits will result in coins being won, with more awarded for a critical hit. Next, you will need to defend yourself, again by choosing high, middle or low to anticipate the orc's attack. Successfully block the orc's swing to win more coins. The bonus game will end after three rounds or if either you or the orc are defeated. A fight bonus is added to any amounts won during the fight and you will be returned to the main game.

Setting up the game takes just a few seconds. First, tap the bet line button to select how many bet lines you wish to play from 1-20, noting the path each one takes across the reels. Next, you'll need to decide your bet level, which basically multiplies the amount of coins bet on each line. Finally, select your coin value, remembering that the overall bet will be affected by the bet level and number of bet lines. The 'Max Bet' button will automatically set the number of paylines and bet value to 20 but you must remember to first set the coin value before you bet as the cost per spin will be 400 times the coin value displayed.

User preferences can be accessed in the bottom left corner. Click the spanner to turn off ambient sound or sound effects individually. The overall volume is controlled with the speaker symbol and the question mark will open up a help menu. Click 'Auto' to set up the auto-spin feature, which includes advanced options to stop spinning when cash thresholds or in-game features are unlocked.

To begin playing the Crusade of Fortune video slot, click the green button with white arrows in the center. You can allow the reels to settle in the normal way or skill stop them yourself by clicking the spin button again.

Crusade Of Fortune Slot Tips
Crusade of Fortune slot is not all that common but can be played at a handful of NetEnt casinos such as Casumo for example. It's not featured in any welcome offers but can be used to meet the wagering requirements of a casino bonus. You'll find this game to offer regular small payouts which allow for some playtime before there's a significant dent in your overall bankroll. Some good wins are possible but come few and far between, and are not likely to change the way you live your life.

The wilds help to keep the wins ticking over in general and can give a nice jackpot of up to 5,000 coins for 5 in a row. Scatter symbols are a little less active but when you get enough to initiate the free spins, then a big win can follow. The base game actually has the biggest payout but you can win up to 250,000 coins when battling the orc in the bonus game.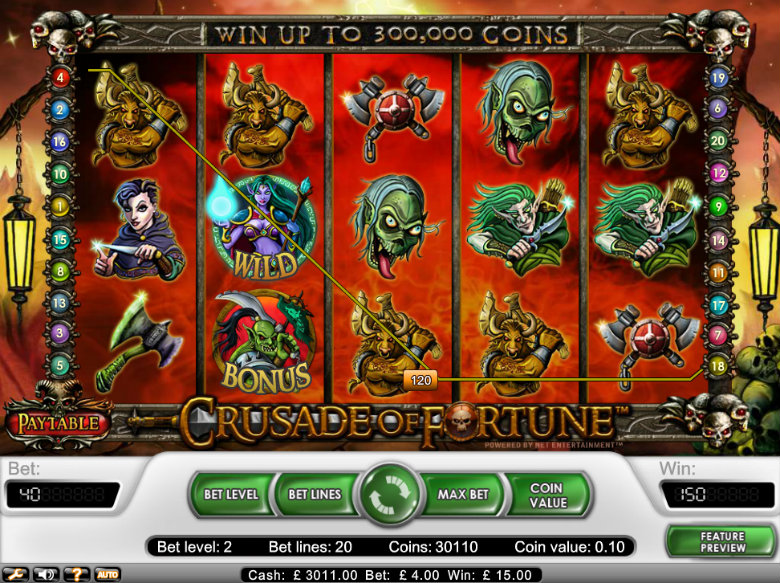 Is Crusade Of Fortune The Right Slot For You?
Crusade of Fortune online slot is a low variance game that tends to pay out small prizes on a regular basis. If you're lucky enough to get some free spins or unlock the bonus feature, then you stand to get some bigger casino rewards.

The RTP is 95.9%, giving the casino a house edge of 4.1%. This is good compared to most other online slots without being remarkable. It offers the potential of a lengthy play session from a small deposit but like all slots can have the occasional dry spell that will leave you empty handed.

The pace of the game is brisk and interruptions are kept to a minimum unless a special feature comes into play. The scatter symbols make a jolting noise when they drop in which puts you on the edge of your seat in anticipation of winning some free spins. Each of the special feature symbols also has its own animation which albeit short lived, do look pretty neat.

Fans of the fantasy genre who enjoy things like World of Warcraft or Dungeons & Dragons will love this slot. The creatures and characters featured are synonymous with the fantasy genre and are really brought to life in the bonus game.
More games in Video Slots