The Golden Era by Microgaming is an online slot that celebrates the vintage era of Hollywood with all the Glamour and Glitz that goes along with it. The game was launched back in February 2015 and aims to bring back the romance that was within the cinema at that particular time. With its classic styling, you will soon find yourself back in those golden years of the big screen which were from 1930 through until 1960.
The Golden Era video slot is a 5-reel game with 15 fixed pay lines. Typical Microgaming features are present including the Wild Substitution symbol that will replace all other symbols apart from the scatter symbol. You also have a bonus feature where you can choose one of two types of bonus awards. One will see you receive free spins and the other a random picking type of game. The Golden Era slot has a top jackpot prize of £106,000.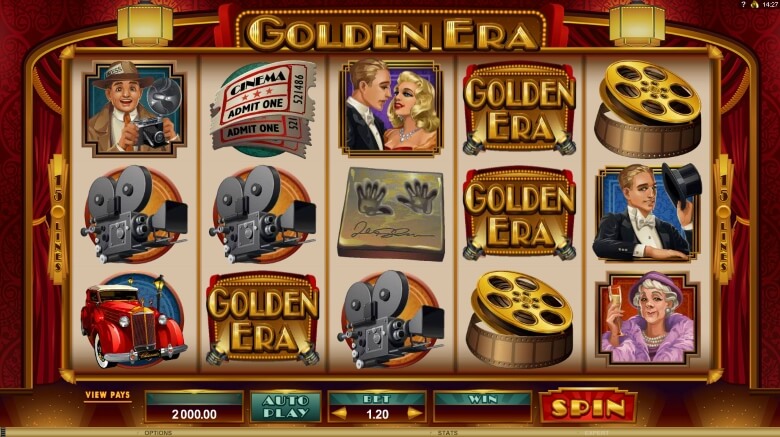 How to play the Golden Era Video Slot
When you first load up the Golden Era slot you are presented with a game screen that makes use of the colours red, gold and brown to help give you the feel of the 1930's era it belongs to. Maybe it is in keeping with the theme but the graphics used for the symbols are not as highly polished as some of the newer games being produced by Microgaming.
There are no card type symbols as is the case in a lot of online slots but instead, you have various items and characters that are part and parcel of that bygone era. As an example, you have a vintage car, an old style movie camera, punched paper cinema tickets, movie stars and the paparazzi.
The Wild symbol is made up of the game logo against its own cinema board with spotlights shining across it. Finally, you have the scatter symbol which is a film clapperboard. It is this that will hopefully help bring in the big wins by activating either the free spins bonus round or the Double Feature Bonus.
Before you get engrossed in the glamour of old-time Hollywood you should first set your cost per spin and set it at a level you are comfortable with. Using the 'Bet' button at the bottom of the game screen you can set the coin size at 1p, 2p, 5p, 10p and 20p. You can also set how many coins you wish to use, this being between 1 and 20. Therefore, by adjusting these options you can set the cost per spin to as little as 15p up to a maximum of £60.
To start playing the Golden Era slot you just need to select the oblong looking button on the bottom far right of the game screen marked 'Spin'. There is also an 'Auto Play' button along the bottom section of the game screen. Clicking the AutoPlay feature allows you to have the game spin the reels automatically. You can set the number of spins from 5 up to 100 or use the pre-set buttons for 10, 25, 50 or 100 spins. You can also set the game to continue spinning until you choose for it to stop.
Although you do have a choice of two bonus features by landing the correct number of scatter symbols, the base game is just a normal case of matching symbols to receive a cash prize. The Wild symbol does land quite frequently to help create a win which is a good thing as activating the bonus round can take a while.
If you land two scatter symbols then you will receive a cash prize but you do need 3, 4 or 5 to activate the bonus round. Once this is launched you can select either 12 Free Spins with embracing wild reels or the Double Feature Bonus. If you choose the free spins then reels 1 and 5 will become wild reels. On each spin, these will move closer together until merging on reel three. At this point, any win will be multiplied by two. This sequence will continue throughout the 12 free spins.
With the Double Feature Bonus, you will be presented with 10 movie posters with cash prizes hidden behind each. You simply keep picking posters until you land on one that has no cash prize but ends the bonus round. All clicked posters with cash prizes will be added together as your overall cash win.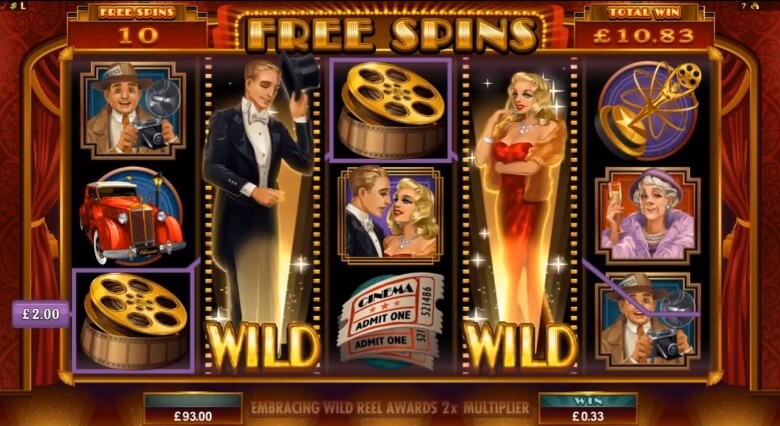 Golden Era Video Slot Tips
Just underneath the first reel, you will see a button labeled 'View Pays'. This will reveal 6 screens that give information about the game including the main features as discussed above. You can also view the coin payout levels for the number of matching symbols on a winning line along with a grid view of how the wins are generated. This screen will help familiarise you with the game and what you need to do to get the best wins possible.
If you are new to playing the Golden Era video slot, then it would be worth your while to try out the game for free at one of our recommended online casinos. This facility allows you to learn how the game plays and see the bonus free spin feature before spending your hard earned cash. You can switch to real cash play at any time. If you would like to play Golden Era slot for free then you can at Slotty Vegas.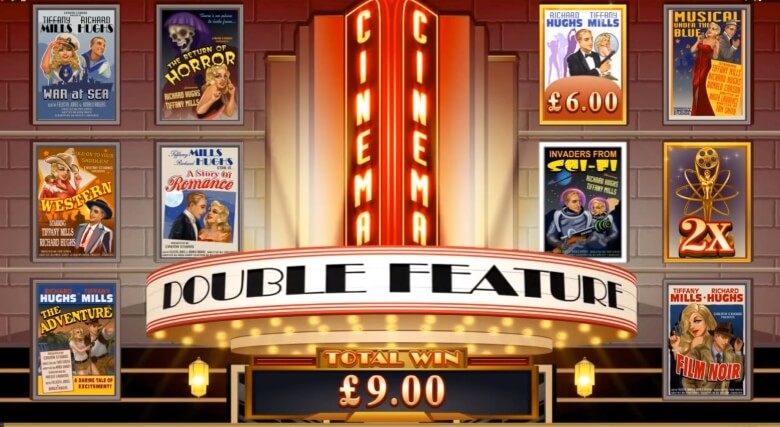 Is Golden Era the right video slot for you?
The Golden Era Slot by Microgaming has a theoretical RTP (return to player) of 96.56% giving a house edge of 3.44%. We tested the game over 100 spins at a £1.20 cost per spin. Now this game is a medium variance slot which would suit players who like to see fairly frequent wins and also have the chance of hitting a decent size jackpot.
The game did indeed play as a medium variance game. We did have the occasional dry spell with up to 10 spins without a win and some of the wins we did receive were quite small. However, every now and again a decent enough sized prize would land and bring the overall balance back up towards its starting point. The biggest sized prizes are to be gained from the bonus round although this can take quite a while to land. Therefore, if you have a free casino bonus at hand then the Golden Era slot gives you a good length of play with the chance of hitting a large cash prize whilst meeting the wagering requirements of your bonus funds.
More games in Video Slots