February 2016 saw the launch by Microgaming of their Dragon Dance multi-platform online slot. This was released in celebration of the Chinese New Year and is a game that has great looking graphics, vibrant colours and a soundtrack that is made up of wooden flutes, plucking strings and percussion instruments. This all helps to set the scene for a great online slot where you can get the chance to dance with the Dragon.
The Dragon Dance slot by Microgaming is a 5-reel game with 243 ways to win. With all the fun of a Chinese Festival, you will find that this game is not like others in the fact that it has a unique feature of being able to choose to re-spin individual reels at a cost. This gives you the chance to complete a win. Alongside this, you have Scatters that can produce free spins which all set the scene for fun and fortune and a £60,000 jackpot.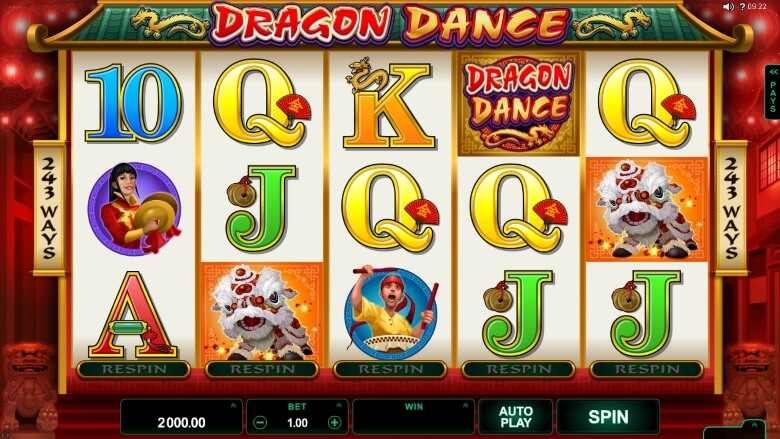 How to play Dragon Dance Video Slot
When the game has loaded you will be presented with a very rich and colourful game screen. The reels have elaborately styled symbols laid on a white background and the reels themselves have a backdrop of a Chinese village glowing red from the hanging lanterns. The game presents itself extremely well giving an overall fun feel.
The game symbols include typical card symbols of 9, 10, J, Q, K and A in bold colours with the symbols J through to A including an additional feature such as a Chinese fan or coin. Other game symbols include dancers, drummers, percussion players and two types of Chinese Dragons. There is also the name of the slot 'Dragon Dance' as the Wild symbol which substitutes for all other symbols apart from the scatter symbol. These scatter symbols are made up of Chinese Firecrackers and they trigger the free spins feature.
Before joining the festivities you need to make sure you set your cost per spin and that this is at a level you are comfortable with. Using the 'Bet' button at the bottom of the game screen you can set the coin size at 1p, 2p, 5p, 10p, 20p, 25p and 50p along with a multiplier of how many coins to bet. This can be set from 1 up to 10. Therefore, adjusting these options allows you to set the cost per spin to as little as 25p up to a maximum of £125.00.
To start playing Dragon Dance you just need to select the oblong looking button on the bottom far right of the game screen marked 'Spin'. There is also an 'Auto Play' button along the bottom section of the game screen. Clicking the AutoPlay feature allows you to have the game spin the reels automatically. You can set the number of spins from 5 up to 100 or use the pre-set buttons for 10, 25, 50 or 100 spins. There is no bet max button on this video slot.
As you play the game there is one main aim which is to land as many scatter symbols as possible. You can in fact win with just 2 scatter symbols, however, you need at least three to activate the free spins feature. The more scatter symbols you land the bigger the cash prize for that individual win but the number of free spins you receive is the same.
You are awarded 15 free spins with all wins multiplied by three. During the free spins round you can activate another set of free spins if you again land the scatter symbols. Apart from trying for more free spins you will just play through your bonus spins to amount as big a cash prize as possible and then be returned to the base game.
Unlike other online slots that can be more feature rich such as Hooks Heroes from Netent, with Dragon Dance, it focuses on its unique feature of being able to re-spin individual reels to try to complete a win. This feature does not work if you use the Auto Play facility. However, on spinning the reels manually, after each spin, you will see underneath each reel a cost to re-spin that one reel. If for example, you landed 2 scatter symbols you could just keep re-spinning one of the other reels in the hope of landing a third scatter symbol. This would then activate the bonus feature.
Dragon Dance Video Slot Tips
On the right-hand side of the game screen, you will see a button labelled 'Pays'. This will reveal a series of 4 screens that give information about the game including the main features as discussed above. You can also view the coin payout levels for the number of matching symbols on a winning line along with a grid view of how the wins are generated. These screens are useful and help familiarise you with the game and what you need to do to get the best wins possible.
If you are new to playing the Dragon Dance video slot, then it would be worth your while to try out the game for free at one of our recommended online casinos. This facility allows you to learn how the game plays and see the features in action before parting with your hard earned cash. You can switch to real cash play at any time. If you would like to play Dragon Dance slot for free then you can at Mr Green Casino or Unibet Casino.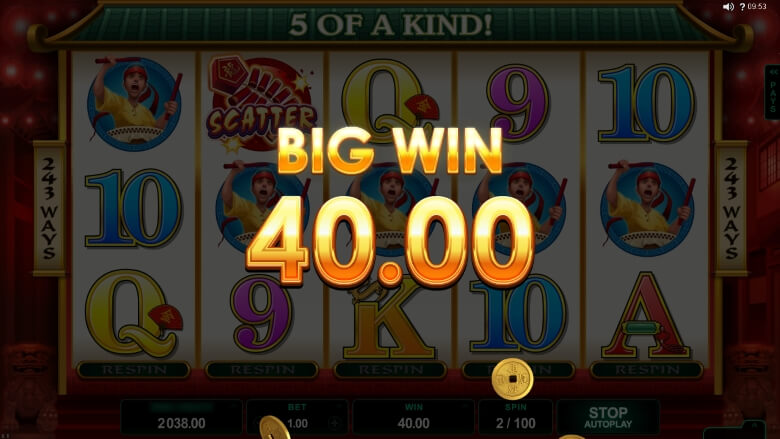 Is Dragon Dance the right video slot for you?
The Dragon Dance Slot by Microgaming has a theoretical RTP (return to player) of between 97% and 98% giving a house edge of up to 3.0%. This particular slot gives a better RTP than quite a few other Microgaming slots. When we tested the game over 100 spins at £1.00 per spin we did feel that in our opinion this is a medium variance slot. This is because the wins can come in fairly frequently, albeit not too big in size but the main free spin bonus from landing scatter symbols felt hard to achieve in normal spins.
We never had a dry spell of wins of more than 8 spins without a win but to get the feature it was easier to land two scatter symbols and then re-spin an individual reel to get a third scatter symbol. This then activated the free spins bonus which is where the bigger wins are achieved. If you were looking to play Dragon Dance as a slot for meeting the wagering requirements of a free casino bonus, it may be worthwhile to do the following. Reduce your cost per spin to the minimum 25p and then re-spin individual reels to either land scatter symbols or 5 dragons. This is not a guarantee but you have more chance of achieving the bonus feature or a large win this way than through basic normal spins.
More games in Video Slots