Launched by Microgaming in September 2015 in readiness for the 2015 Rugby World Cup the Rugby Star video Slot is another of their sports themed slots similar to Cricket Star and Football Star. If you love either of these previous online slots then you are sure to enjoy Rugby Star. It is built with the same game engine, the same high-quality graphics and immersive sound to make for another great game from this popular software developer.
Rugby Star by Microgaming is a 5-reel video slot with 243 possible ways to win. This is a familiar feature with many slots from Microgaming. The slot boasts more than 40 wild symbols on the reels to help boost your winnings, a scatter symbols to create the free spins bonus round, a Wild Pass feature and rolling reels. Rugby Star offers a top jackpot prize of £120,000.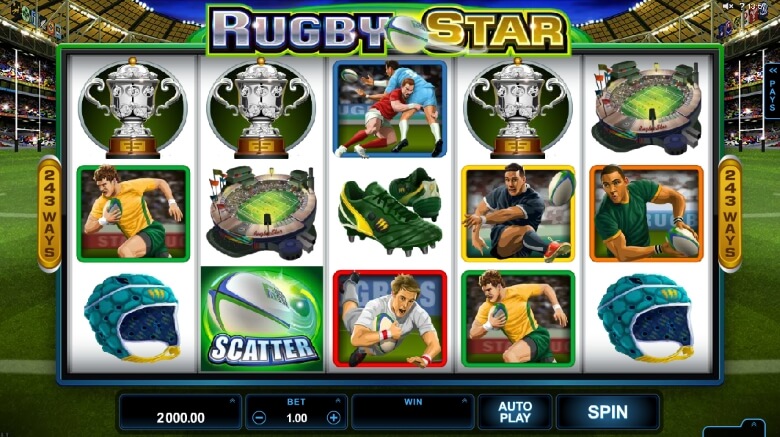 How to play Rugby Star Video Slot
When you start the game you will see that the setting is inside a full sports stadium. The backdrop is full of excited fans and you are on the field ready to play with the game reels in front of you. The 5 reels are made up of images of players in action and other items that you associated with the world of rugby.
There are no standard card type symbols so you have the symbols mentioned above and a scatter symbol and a wild symbol. The scatter is a rugby ball and you will need at least 3 of these to trigger the free spins bonus round. Depending on whether you land 3, 4 or 5 scatter symbols will award you with either 15, 20 or 25 free spins. The wild symbol is the Rugby Star logo and as usual, can substitute for all other symbols apart from the scatter symbol. As mentioned earlier there are 40 wild symbols which include stacked wilds on reels 3, 4 and 5.
Before you give this game a 'try', you should set your cost per spin. Make sure this is at a level you are comfortable to play at. Using the 'Bet' button at the bottom of the game screen you can set the coin size at 1p, 2p, 5p and 10p along with a multiplier of how many coins to bet. This can be set from 1 up to 10. Therefore, adjusting these options will allow you to set the cost per spin to as little as 50p up to a maximum of £50.
To start playing the Rugby Star video slot you just need to select the oblong looking blue button on the bottom far right of the game screen marked 'Spin'. There is also an 'Auto Play' button along the bottom section of the game screen. Clicking the AutoPlay feature allows you to have the game spin the reels automatically. You can set the number of spins from 5 up to 100 or use the pre-set buttons for 10, 25, 50 or 100 spins. You also have the option to let the reels spin until you choose to stop them.
This is another Microgaming slot that although may have a theme you are not particularly keen on, maybe because you don't follow rugby but nevertheless has a good gameplay, so it really doesn't matter. It is a game with great graphics and animations and fun bonus features.
The base game in Rugby Star includes stacked wild symbols on reels 3, 4 and 5 and offers plenty of extra chances for boosting your winnings. In the base game and the bonus round, you also have the Rolling Reels feature. Whenever you get a win the winning symbols will burst and disappear and new symbols will fall down from the top of the game screen to fill their positions. This can create new wins. This will continue until no further win is achieved.
Then by landing 3, 4 or 5 scatter symbols you also have the free spins bonus round. You will be awarded 15, 20 or 25 free spins depending on how many scatter symbols you had. During your free spins bonus, each time you hit a win a multiplier will increase up to as much as x10 on any following wins. Cash prizes here can be much larger than in the base game. Once the free spins are complete you will be returned to the base game.
Rugby Star Video Slot Tips
Just to the right of the 5th reel, you will  see a button labeled 'Pays'. Selecting this will reveal a series of 4 screens that give information about the game including the main features as discussed above. You can also view the coin payout levels for the number of matching symbols. These screens are useful and help familiarise you with the game and what you need to do to get the best wins possible.
If you are new to playing the Rugby Star slot, then it would be worth your while to try out the game for free at one of our recommended online casinos. This facility allows you to learn how the game plays and see the features in action before parting with your hard earned cash. You can switch to real cash play at any time. If you would like to play Rugby Star for free then you can at Betbright Casino and Comeon Casino.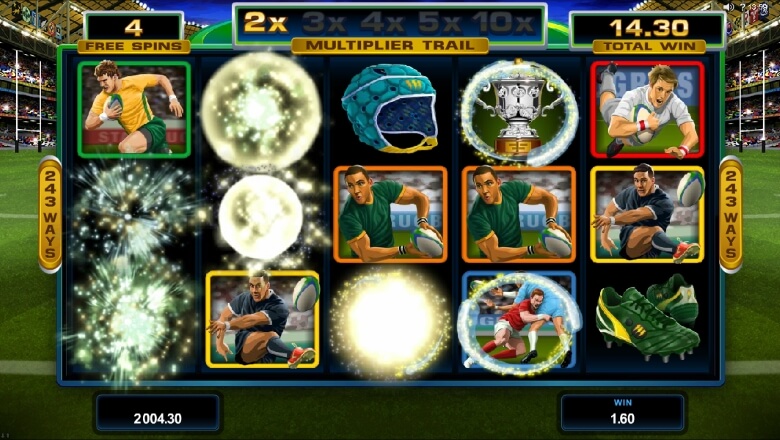 Is Rugby Star the right video slot for you?
The Rugby Star Slot by Microgaming has a theoretical RTP (return to player) of 96.4% giving a house edge of 3.6%. As with both the Football Star and Cricket Star slots, this is a medium variance game. We tested this game over 100 spins at a £1 cost per spin and it is quite surprising how the gameplay was different to say Cricket Star. This may just be down to luck but the wins we received seemed far lower in both the base game and bonus round. Our longest spell without a win was 20 spins and this has to be one of if not the longest dry spell out of any slot we have reviewed.
Now this does not mean too much on a one-off testing of the game but did put a bit of a dent in our balance. However, we did achieve the free spins bonus round which did help bring this back up to a better level. Overall, the gameplay is fun and the features are good and would suit you if you are looking to make a free casino bonus last for longer, help meet its wagering requirements and whilst at the same time having the chance to achieve bigger cash prizes through the unique bonus features.
More games in Video Slots