Relic Raiders is an adventurous treasure hunting slot by leading software developers NetEnt. You'll take on the role of an intrepid explorer and will be tasked with lining up precious gemstones and other artifacts in this fascinating video slot.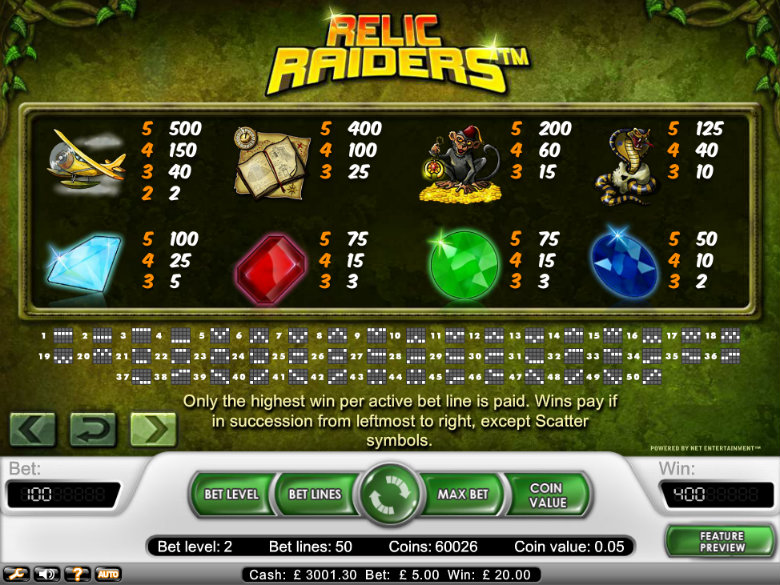 How To Play Relic Raiders Slot
Before exploring Relic Raiders online slot, it's a good idea to learn how the game works. Click on 'Paytable' in the bottom left to review the mappings for each bet line and what the values are for each of the prize symbols.

You'll notice that the wilds are particularly valuable at 10,000 coins for 5 in succession on any active bet line. This is considerably larger than the best standard symbol which is the seaplane at 500 coins for 5 in a row. Bet line wins pay if in succession from leftmost to right. Wilds also substitute for all other symbols apart from scatter symbols to make more winning combinations possible.

Scatter symbols look like a treasure chest and do not have to be on the same bet line, they merely need to appear anywhere on the reels to combine. 3 or more scatters will activate free spins and pay a total bet multiplier of up to 200x for 5 scatter symbols. Free spins will be paid with a random 1x – 5x multiplier that is decided when you choose one of the chests. 2 or more scatters during the free spins game will unlock additional free spins.

The bonus symbol is denoted by the main characters of the game. Get 3 of these on any active bet line to start or continue a bonus game. You'll need to pick from 4 sites around the world and look for treasures inside. Each treasure you collect will have a coin value that is added to your win total for the bonus game. You may also be lucky enough to find one of the special relics. Once you have all 4 relics, you'll be awarded a bonus prize. If you uncover the giant spider, the bonus game is over. Progress in collecting relics is saved for 36 hours so you can return to the game and try to win the mystery bonus.

Setting up the game is really easy to do and takes a matter of seconds. Start by clicking 'Bet Lines' to decide how many bet lines you wish to activate, noting the paths they take across the reels as you add them. Next set your bet level which will determine the number of coins placed on each active bet line. Finally, select your con value, remembering that all three settings combined will affect the overall cost per spin. For example; with all bet lines active, a coin value of 0.10 at bet level 2 will cost 10.00 per spin (0.10 x 2 = 0.20 x 50 bet lines = 10.00). The 'Max Bet' button will automatically set the number of bet lines to 50 and bet level to 4 but you must remember to first set the coin value before you bet as the cost per spin will be 200 times the coin value displayed.
User preferences can be adjusted to your personal taste via four icons on the bottom left of the screen. The spanner icon provides on/off options for ambient sound and sound effects while the overall volume is adjusted via the speaker icon and the question mark opens the help menu. The 'Auto' button allows you set the number of spins to be executed when you press Autoplay and has advanced options to control when to stop the feature.

To begin playing Relic Raiders video slot, click the green button with white arrows in the center or hit Autoplay if you don't want to click for each spin of the wheel. You can execute a skill stop by clicking the spin button again while the reels are still moving.
Relic Raiders Slot Tips
Relic Raiders is not an easy slot to find but you can play it at Video Slots and Reel Island. It's not available on mobile and you won't see it featured in any welcome packages. Because of its high volatility, it's not a good slot to use to try and beat the wagering requirements of a casino bonus and is better for chasing a big win with an expandable bankroll.

The free spins game is the key to getting the best wins as you can get a multiplier of up to 5x applied to your winnings. We managed to win over 1,000 coins from 8 spins with a 2x multiplier by picking up additional multipliers during the free spins game. That was followed by a tidy 2,163 coin payout from 15 free spins with a 2x multiplier and a huge 8,369 coin payout from just 10 free spins with a 3x multiplier, so you can see the potential of the free spins game.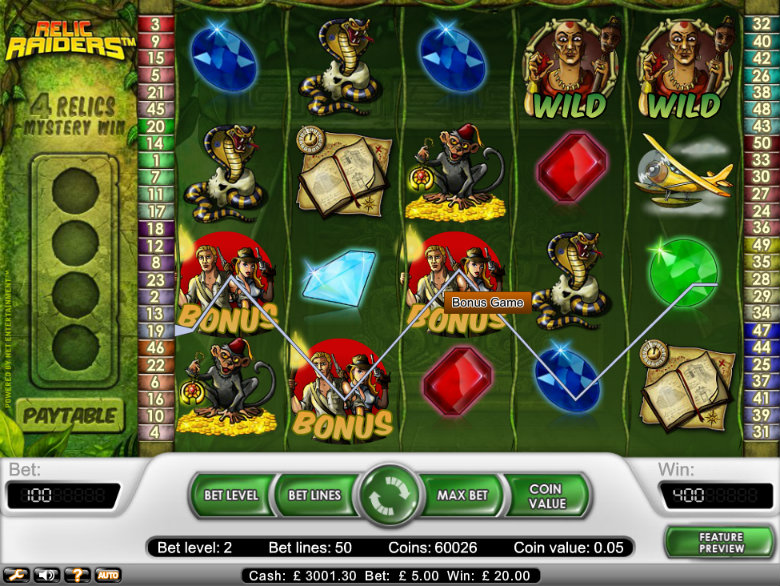 Is Relic Raiders The Right Slot For You?

Relic Raiders slot is a high variance game that will drip-feed you a small amount of minor wins with the occasional big payout from time to time. The RTP is quite low at 90% which gives the casino a sizeable house edge of 10%. This makes it a risky slot to play long-term but the potential for a big payout ensures it remains an appealing game to play.

We really like the bonus games although the coin wins were mediocre. It's nice that you can save your progress with the relics and come back the next day to try and win the bonus prize too. The free spins game is also really exciting as you tend to be able to rack up a few winning combos with a decent multiplier. There is no quick spin feature to speed things up and this game is best played at a relaxing pace.

It's a great game for fans of adventure and exploration and is sure to appeal to those who like a few spins on games like Book of Ra or Lost Island.
More games in Video Slots