Peek-a-Boo video slot went live just in time for Halloween 2015 and is a Casper the Friendly Ghost and Ghostbusters type game as you might expect from its title. If you enjoy slot games that have a cartoonish look then this is exactly what you can expect here. Although the theme is geared for a specific time of year being Halloween, you can enjoy the fun of ghost hunting anytime you wish.
Peek-a-Boo by Microgaming is a 5-reel game with 40 pay lines which are fixed. This fun filled scary game includes some unique features that you don't normally find in other Microgaming slots. These include the fact that if you hit the free spins feature then your win lines jump from 40 ways to win up to a huge 1,024 winning combinations. There are also stacked wild symbols in the base game that can become super-stacked in free spins mode. There's a top jackpot prize of £100,000 on Peek-a-Boo video slot.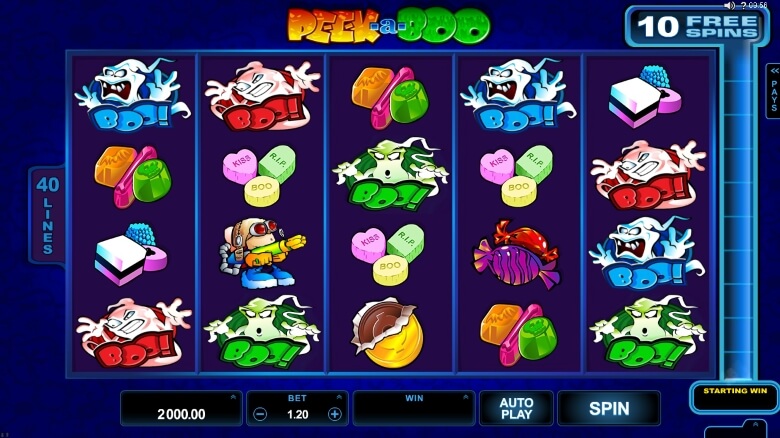 How to play the Peek-a-Boo Video Slot
A splash screen shows you details of the ghost meter feature and spooky respins feature on first launch. Simply select the continue button to move onto the main game screen. Unlike some other Microgaming slots such as Serenity that includes really gorgeous looking graphics, Peek-a-Boo is a bit underwhelming in the quality and design of the game.
The game doesn't use playing card symbols which you generally find on the majority of online slots. In keeping with the theme of the game, you have 5 different sweet symbols. These represent the goodies you can collect from Halloween Trick or Treating. Next, you have four different ghosts as symbols and a Peek-a-Boo Wild symbol. As mentioned earlier, this wild symbol is stacked on all reels during the base game and during free spins is super-stacked on reels 4 and 5.
You also have the ghost catcher on reel 3 during the base game. At any time he can zap one ghost per reel and help fill up your ghost meter. Collect 10 or more ghosts to activate the free spins bonus feature. The number of ghosts you collect determines the number of free spins you can earn, up to a maximum of 13 free spins. You also have the Spooky Respins feature where reels 4 and 5 can re-spin during free spins to boost your returns.
Before you set off ghostbusting you will need to make a few adjustments. Coin values can be altered to 1p, 2p, 5p, 10p, 20p and 25p with the 'Bet' button. You can multiply the number of coins bet per line from 1 up to 10, enabling a cost per spin of between 40p and £100. Click 'Spin' to play manually or use 'Auto Play' to initiate up to 100 automatic spins.
The base game can feel quite flat and short of excitement. Occasional wins of a decent size come through the wild symbol but really you are looking to hit the free spins feature. To achieve this, you need the ghostbuster to appear on the middle reel and start zapping one ghost from each other reel, providing they are present. This will start to fill the ghost meter on the right-hand side screen.
You will need at least 10 zapped ghosts to activate the free spins feature. As you fill up your ghost meter you will see a starting 'win' shown in the bottom of the meter. As soon as you activate the free spins you will be credited with this amount of cash. Watching the meter fill up and the prize amount grow is genuinely thrilling.
Between 10 and 13 free spins will be awarded upon unlocking the feature. Because the wild symbols are super-stacked on reels 4 and 5, you have the potential to win bigger in this round. There are 1,024 ways to win in this round, negating the need for bet lines. On top of this, reels 4 and 5 can randomly turn into the Spooky Respin feature and spin again without losing any of your free spins. Upon completion of the free spins feature, you will return to the base game with 40 pay lines.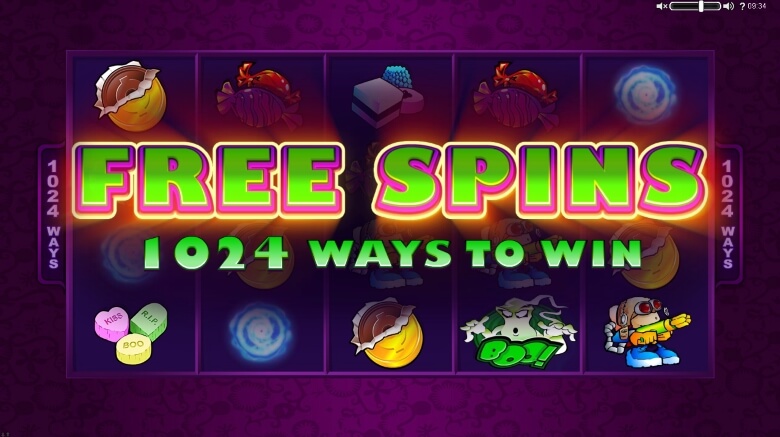 Peek-a-Boo Video Slot Tips
To get more game information, click 'Pays' on the right. This will open up 5 screens that give you a detailed run down of the slot and it's features. You can also view the coin payout levels for the number of matching symbols on a winning line along with the path each line takes over the reels.
You can play this slot in demo mode or for real cash. Playing for free allows you to sample the slot without risking any money.You can play Peek-a-Boo slot for free at Betbright Casino.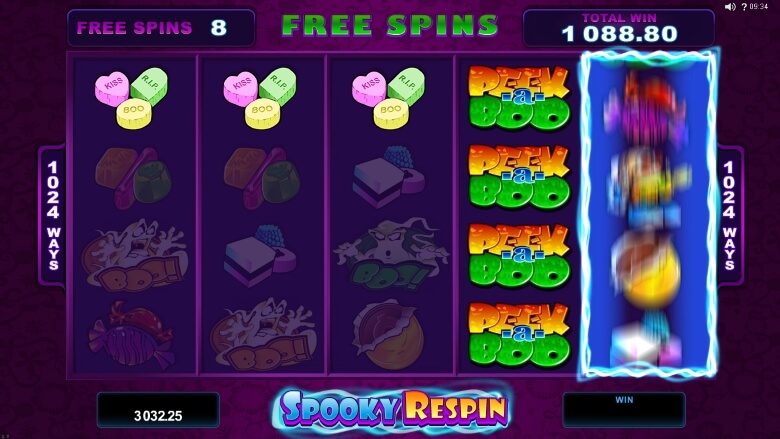 Is Peek-a-Boo the right video slot for you?
The Peek-a-Boo Slot by Microgaming has a theoretical RTP (return to player) of 94.96% giving a house edge of 5.04%. This is a low RTP compared to many other online slots and is reflected in the way the game plays. We initially tested the game over 100 spins at a cost of £1.20 per spin. We experienced quite a few dry spells where we could go as many as 11 spins without a win.
It also felt like it was quite hard and frustrating to get the ghostbuster to land on reel 3. Eventually, we did get the ghost meter full but had to play a further 50 spins to do this. The wait was worthwhile as the cash prizes were considerably bigger thanks to 1,024 winning combinations and the spooky respin feature. The Peek-a-Boo slot is a medium variance game, however, without hitting the free spins bonus round it can feel more of a high variance game and not one to consider playing to meet the wagering requirements of a free casino bonus.
More games in Video Slots