The Secret Admirer video slot was released by Microgaming in January 2010 so is quite an old online slot compared to more modern feature rich Microgaming slots of today. The game is themed around Valentine's Day so you can now enjoy this romantic time of year every day. If you enjoy the older style slots then you may instantly fall in love with its charm.
The Secret Admirer slot by Microgaming is a 5-reel game that has a total of 9 pay lines. These are not fixed so you can adjust how many you want to be active. The game incorporates a free spins bonus round activated with scatter symbols. There is also a wild substitution symbol that can replace all symbols apart from the scatter. The game also offers a gamble feature on any win. Secret Admirer has a top jackpot prize of 5,000 coins for 5 scatter symbols.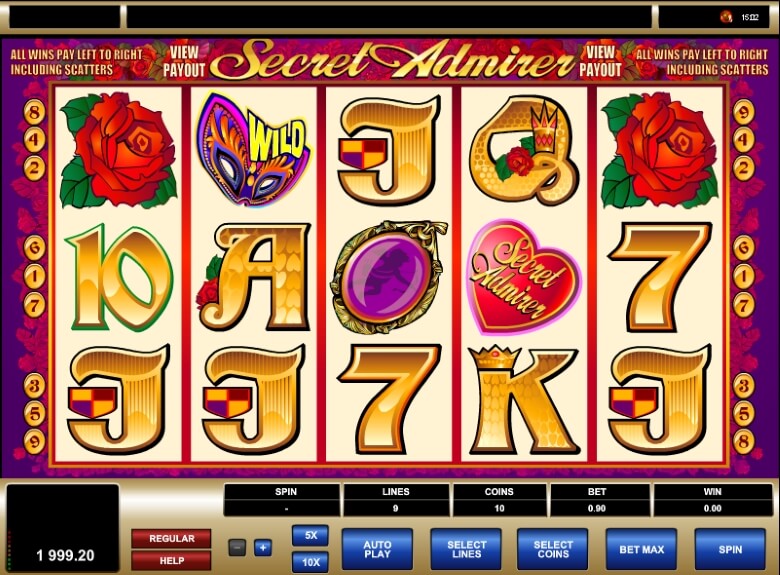 How to play Secret Admirer Video Slot
When the game loads you will see that they have tried to make it look like a slot game full of romance with the use of a purple backdrop filled with red roses along with gold coloured text and frames. The symbols are large and bold and some even include heart shapes within them.
The game uses some standard card type symbols. In fact, it uses far more than most online slots. The symbols used are 7, 8, 9, 10, J, Q, K and A. You then have 5 further symbols associated with this loved up themed slot. These include roses, perfume and the Secret Admirer logo in a heart shape to name just a few. The wild symbol is a masquerade mask and can even award you a cash prize for landing just one. Finally, the scatter symbol is a diamond ring. It is these scatter symbols that you require to activate the free spins bonus feature.
Before trying to find out who your secret admirer is, make sure you set your cost per spin and that this is at a level you are comfortable with. Using the option at the bottom of the game screen, you can set how many of the 9 pay lines you want active. You can the also set how many coins in total you wish to use. This can be from 1 up to 10. Therefore 9 pay lines with 10 coins (9x1px10) would be 90p. Underneath the first reel, you will also see a + and – button that means you can change the coin value from 1p to 2p, 5p, 10p, 20p, 25p, 50p and £1. Adjusting these options will allow you to set the cost per spin to as little as 1p up to a maximum of £90.
To start playing Secret Admirer you just need to select the oblong purple shaped button on the bottom far right of the game screen marked 'Spin'. There is also an 'Auto Play' button but you first need to select the 'expert' mode across the very bottom bar on the game screen. This will make the button appear. Clicking the AutoPlay feature allows you to have the game spin the reels automatically. You can set the number of spins from 5 up to 100. You also have a bet max button which will spin the reels at the maximum cost per spin based on your current coin level.
During the base game, you are matching symbols on any of the pay lines and this can be achieved with a wild symbol substituting for any other symbol. Once you have a win, you can then gamble your cash award. You will see the gamble button appear when you have a win and selecting this will give you the chance to double your prize. You will simply have to choose whether a playing card will be red or black when it is turned over. If you guess correctly then you can continue to gamble the prize until either you collect or lose. If you do guess incorrectly then you lose any form of prize.
Your main aim will be to land at least 2 scatter symbols on a winning pay line so you can activate the free spins bonus round. However many scatter symbols you landed, these will make those reels stick and you will be awarded 3 free spins. If another scatter symbol lands within a winning line then that reel will also stick and the 3 free spins will start again. If you end up with 5 scatter wins then the maximum scatter win is repeated 3 times. Once the free spins are complete you will return to the base game.
Secret Admirer Video Slot Tips
On the top of the game screen, you will  see a button labeled 'View Payout'. This will reveal 4 screens that give information about the game including the main features as discussed above. You can also view the coin payout levels for the number of matching symbols. These screens are useful and help familiarise you with the game and what you need to do to get the best wins possible.
If you are new to playing the Secret Admirer video slot, then it would be worth your while to try out the game for free at one of our recommended online casinos. This facility allows you to learn how the game plays and see the features in action before parting with your hard earned cash. You can switch to real cash play at any time. If you would like to play Secret Admirer for free then you can at Betbright Casino.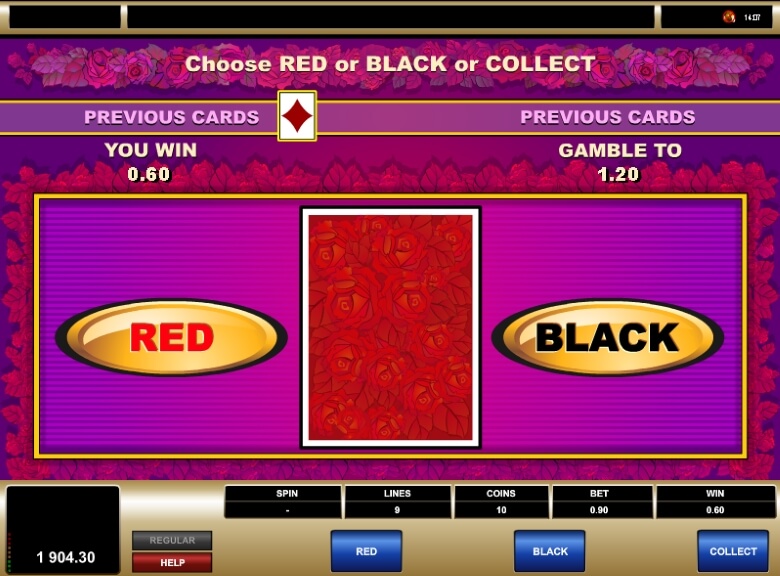 Is Secret Admirer the right video slot for you?
The Secret Admirer Slot by Microgaming has a theoretical RTP (return to player) of 96.08% giving a house edge of up to 3.92%. We tested the game over 100 spins at a 90p cost per spin and found that the game did certainly feel a bit dated and the only real main feature which is the free spins bonus round felt hard to achieve.
This online slot is another medium variance game as with many Microgaming slots. However, at times it felt more like a high variance game even though we did manage some decent sized cash rewards. We did have a few long dry spells with up to 11 spins without a win. If you have a free casino bonus to use then you may find that you can get a fairly good length of game play whilst not using your own funds to try and wait it out for the free spins bonus round. This is where the bigger sized prizes are awarded. Try the Secret Admirer slot today and let us know what you think.
More games in Video Slots