Kings of Chicago is a gangster based slot that uses a clever blend of arcade-style play and poker hands to make winning bet lines. This NetEnt casino release has been around since 2011 and is still a firm favourite among seasoned slots players.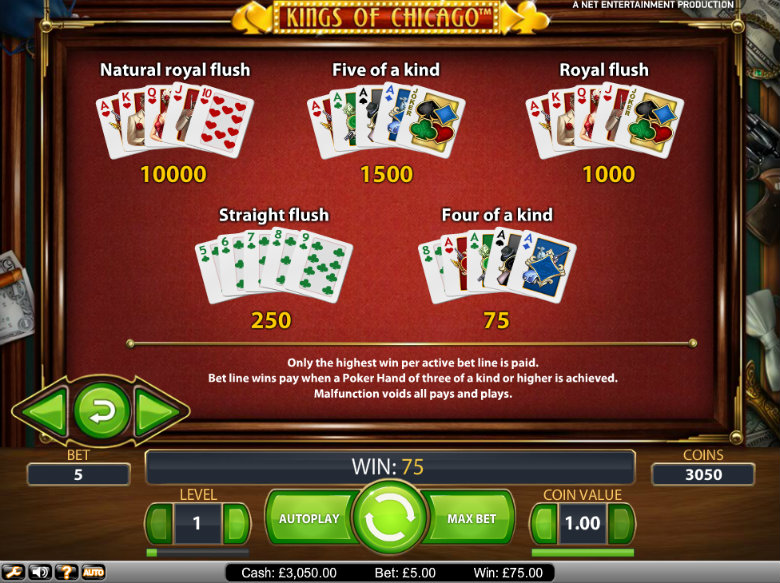 How To Play Kings of Chicago Slot
Getting to grips with how a game works is always a good idea before you play slots online. Click on 'Paytable' beneath the leftmost reel to see how each of the prize symbols combine and what coin values they represent. Unlike most slots, winning symbols need not appear in succession from left to right and you merely need to make a winning poker hand on any bet line.

If you're familiar with poker then understanding the winning hands of this slot will come easily. The best paying combination is a 'natural' royal flush; cards of the same suit ascending in sequence from 10 up to the ace. Get one of these and you'll pocket a tidy 10,000 coin return. The next best hand is 5 of a kind which is achieved by having 4 of the same cards along with the joker and is worth 1,500 coins. A royal flush that includes the joker is worth 1,000 coins and other hands will win smaller prizes in descending order of; straight flush, four of a kind, full house, flush, straight and three of a kind.

Scatter symbols can randomly appear over any card and combine anywhere across the reels to pay a coin return. Not only this but get 3 or more scatter symbols for a round of free deals. 2 scatters is worth a 5 coin payout, 3 scatters is 15 coins and 10 free deals, 4 scatters is 50 coins and 15 free deals and 5 scatters is worth 500 coins and 30 free deals. The joker wilds substitute for all other cards and pay out with a 2x multiplier when completing winning bet lines.

Setting up your game takes a matter of seconds and as the bet lines are fixed, you'll only need to make two adjustments. Use the arrows or slider to set your bet level and coin value, remembering that these settings and the number of bet lines will affect the overall cost of bet per spin. For example; a coin value of 0.10 at bet level 4 will result in a cost of 2.00 per spin (0.10 x 4 = 0.40 x 5 bet lines = 2.00). The Max Bet button will automatically set the bet level to 10 but you must remember to first set the coin value before you bet as the cost per spin will be 50 times the coin value displayed.
Preferences can be adjusted to your personal taste via four icons on the bottom left of the screen. The spanner icon provides on/off options for graphics, audio and features such as quick deal and intro screen. Volume is adjusted via the speaker icon and the question mark opens the help menu. The Auto button allows you set the number of spins to be executed when you press Autoplay and has advanced options to control when to stop the feature.

To begin playing Kings of Chicago video slot, click the green button with white arrows in the center or hit Autoplay if you don't want to click for each spin of the wheel.
Kings of Chicago Slot Tips
Kings of Chicago online slot is widely available and can be played at the likes of Mr Green and Next Casino, though is not available on mobile. You won't see it featured in any welcome packages and it's not the best choice for trying to beat the wagering requirements of a casino bonus. This is because wins tend to be pretty small most often, with the occasional sizeable return possible. So you could feasibly bet through your balance before getting a chance to hit a big win.

This slot does not offer the life-changing amounts of cash that are available on progressive jackpots but can be rewarding to play all the same. To get the maximum payout, you'll need to get a natural royal flush during a free deal where the jackpot payout will be doubled to 20,000 coins. The free deals games are key to staying afloat in Kings of Chicago as you can quite often win back some of your bankroll to play for longer.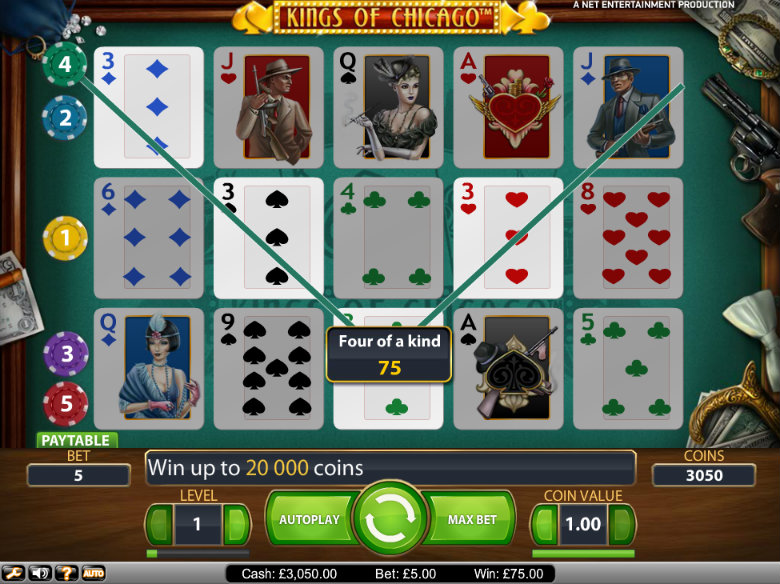 Is Kings of Chicago The Right Slot For You?
Kings of Chicago slot is a high variance game that offers the occasional big return. Otherwise, you'll be looking at low-key prizes as you chase down that elusive payday. The RTP is 97.8% which gives the casino a house edge of 2.2%. This is really good for an online slot and makes Kings of Chicago a good game to target in the long-term if you're looking for a sizeable payout with an expendable bankroll.

The way this game plays is sure to suit players of traditional casino games. It's the ideal crossover from casino to slots and blends the two styles perfectly. Poker players will appreciate the use of different poker hands to make the winning combinations although there is no actual skill involved. We really like the slow turning of the last cards when there's the potential of a big hand and this really heightens the anticipation.

It's a relaxing game to play that anyone can enjoy but is perhaps most appealing to those with an interest in the 1930's organised crime scene in Chicago. You'll see various gangsters on the cards which adds a dark element to what is a smooth and sophisticated slot game.
More games in Video Slots