Wild Rockets Video Slot has been around a while now as it was released back in October 2012 by the Swedish games developer NetEnt. As you can imagine just from its name, this online slot aims to give you an explosive experience with high-quality graphics and sound.
The Wild Rockets Slot by NetEnt is a firework themed 5-reel game albeit in an inverted triangle design meaning reels 1 and 5 have 3 symbols, reels 2 and 4 have 4 symbols and the middle reel has 5 symbols. You also do not have the fixed pay lines as with other slot games. You can also win from both ways rather than just left to right. This means this particular online slot can offer 720 winning combinations with a top prize of 480,000 coins.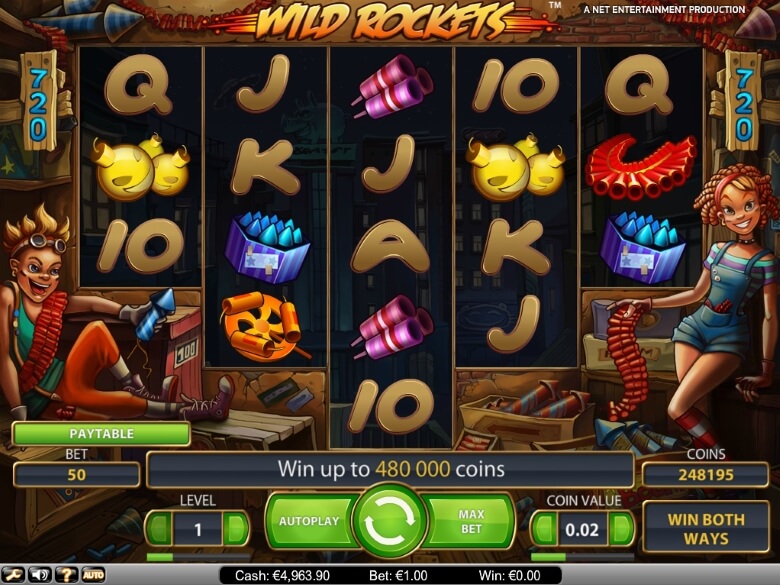 How to play Wild Rockets Video Slot
When you load the game you are immediately presented with the 5 reels on a darkened city background. There is no animated intro as with the newer online slots from NetEnt. Surrounding the reels you will find a boy and a girl sitting inside what looks like a room full of boxes of fireworks. These characters both have devious looks on their faces as if they are about to have some mischief with these gunpowder filled devices.
The game reels consist of the standard playing card symbols being 10, J, Q, K and A along with 5 different firework symbols such as rockets and Catherine wheels. You also have some scatter symbols for the bonus feature and wild symbols which will see rockets blast an overlay of wilds over other symbols in the same reel.
Before jumping in to have some pyrotechnic fun you should set your cost per spin. You can do this using the 'Coin Value' and 'Bet Level' options toward the bottom of the game screen. This video slot has 6 coin levels ranging from 1p up to 50p and 4 bet levels opposed to the standard 10 you find in the majority of NetEnt slot games. Adjusting these options allows you to set the cost per spin to as little as 50p up to a maximum of £100. We always recommend that you set the cost per spin to a value you are comfortable with.
To start playing the Wild Rockets Online Slot you just need to select the green button at the very centre of the bottom part of the game screen. You will also see a 'Max Bet' button and an 'Auto Play' button. Clicking the Max Bet will spin the reels at the maximum level based on your current coin value. Choosing the AutoPlay feature allows you to have the game spin the reels automatically. You can set the number of spins from 10 up to 1000 spins.
Once you start spinning the reels you will be looking for both the wild and scatter symbols to land to help generate the biggest wins. The wild symbol will only appear on reels 2, 3 or 4 and will have a series of 3 rockets included on the symbol that will point in an upward or downward direction. These Wild Rockets will then blast off in their relevant direction turning other symbols within the reel to wilds, helping produce a win for that spin.
If you land 3 or more scatter symbols then you will activate a free spins feature. You will receive 10 free spins for 3 scatter symbols anywhere on the reels, 20 free spins for 4 scatter symbols and 50 free spins for 5 scatter symbols. Once you achieve this feature the game screen will change to a new outside city background and a new game reel layout. The free spins starting automatically. You will also be able to land wild symbols during the free spins so as to maximise your prize potential.
Wild Rockets Video Slot Tips
On the very bottom of the game on the left-hand side, you will find there are several options including a question mark, auto button, volume control and settings. The question mark gives you fairly in-depth information about the game including rules and game functions.The settings allow you to set your spacebar on a PC as the action for activating a spin, remove the startup screen and activate or deactivate quick spin plus adjust the quality of the graphics if needed.
Also, just underneath the first reel and the male character, you will see a paytable button in green. Selecting this will allow you to view a series of 4 screens that give information about the game including the main features as discussed above. You can also view the coin payout levels for the number of matching symbols on a pay line along with a grid view of how the wins are generated. These screens help familiarise you with the game and what you need to do to get the best wins possible.
If you are new to playing Wild Rockets video slot, then you should initially play the game in Freeplay or demo mode. This means you can spin the reels as many times as you like for fun without having to spend your own cash. You will see how the gameplay works and then if you want to play for real you can switch to real cash play at any time. If you would like to play Wild Rockets for free then you can at Royal Panda Casino or Unibet Casino.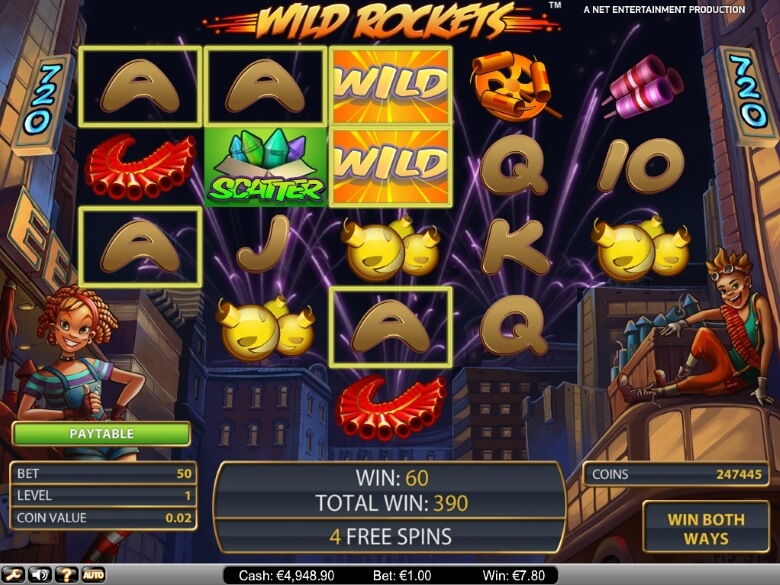 Is Wild Rockets the right video slot for you?
The Wild Rockets video slot has a theoretical RTP (return to player) of 96.7% giving a house edge of 3.3%. We tested the game over 100 spins at a cost per spin of £1.00 and we found that although we never had a dry spell of no more than 11 spins without a win, the number of coins from these wins was relatively small. It was when you either filled a reel with wild symbols or achieved the scatter free spins feature, that you achieved a higher prize.
However, we only achieved the minimum 3 scatter symbols for 10 free spins once and even then only an overall prize of £15. Although we turned over £100 we were down by £37 in the end. The game does not have many features compared to the newer slots from Netent such as KOI Princess which has 8 features. Even though it offers a both ways win and 720 possible winning combinations the game comes out at a medium to high variance slot in our view, so not one to wager through a free casino bonus. On saying this, it is still quite a dynamic and fun game to play, so why not give it a try and let us know what you think.
More games in Video Slots