Reel Spinner by Microgaming launched July 2016 is a fun themed game for all you lovers of the relaxing art of fishing or not so relaxing looking at some of the fish you need to catch. This is more of a deep sea and ocean-based fishing game where you will be out on one of 6 different boats looking to get the one that 'didn't' get away.
The Reel Spinner video slot is a 5-reel game with 15 fixed pay lines. You have a couple of standard features that you can find in most Microgaming Slots and these are a Wild substitution symbol and a scatter symbol. The Wild symbol can replace all other game symbols apart from the scatter with the later symbol being required to activate the bonus round. Reel Spinner offers up a tasty jackpot prize of £112,500.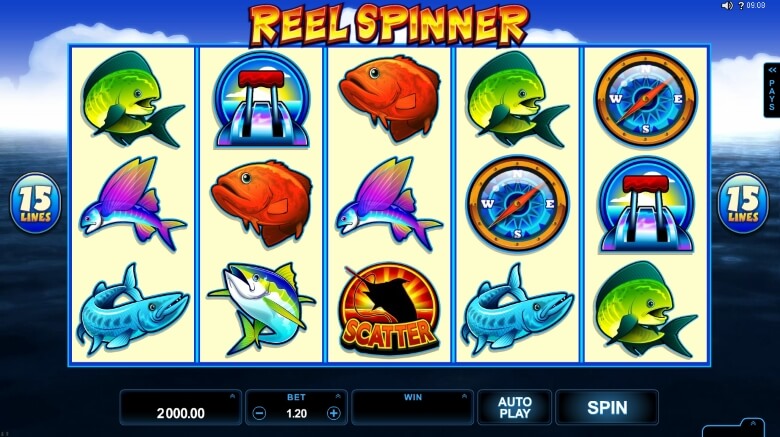 How to play the Reel Spinner Video Slot
When you load up the game you will see from the animated background that you are already out at sea ready to get stuck into trying to get the best catch of the day. The pale yellow colour of the reels and the bright coloured symbols all stand out well against the blue sky and ocean scene.
There are no standard card type symbols with this video slot. Instead, you have five types of colourful fish as the base symbols and then a yacht styled fishing boat, a throttle for increasing the boat's speed, a compass, a fishing reel and the Reel Spinner logo as the Wild substitution symbol. The only other symbol is the scatter symbol which is the silhouette of a swordfish jumping out of the water.
Before you try to 'reel' in the big cash prizes and get 'hooked' on this game you should make sure you first set your cost per spin at a level you are comfortable with. Using the 'Bet' button at the bottom of the game screen you can set the coin size at 1p, 2p and 5p along with a multiplier of how many coins to bet. This can be set from 1 up to 15. Therefore, adjusting these options allows you to set the cost per spin to as little as 15p up to a maximum of £11.25
To start playing Reel Spinner by Microgaming you just need to select the oblong blue coloured button on the bottom far right of the game screen marked 'Spin'. There is also an 'Auto Play' button along the bottom section of the game screen. Clicking the AutoPlay feature allows you to have the game spin the reels automatically. You can set the number of spins from 5 up to 100 or use the pre-set buttons for 10, 25, 50 or 100 spins.
You will soon realise when playing Reel Spinner that it is not a feature rich game. By this, we mean that unlike some online slots where there are quite a few different types of bonuses to achieve, KOI Princess by Netent has 8, that here you only have the one. This means you have the base game of trying to match identical symbols on one of the 15 pay lines, including the use of the wild symbol and then the single free spins bonus round.
You will need to land at least 3 scatter symbols to activate the free spins bonus round. If you have 4 or 5 scatter symbols you simply receive a bigger cash prize for how many symbols you matched and the bonus feature is exactly the same. In the bonus round, you will first be presented with 6 boats and you need to pick one. Each boat will have a number of free spins associated with it. However, you will not find out how many until you have chosen your boat and then they will be revealed. The maximum free spins you can earn is 20.
Next, you will be presented with a fishing reel that you need to click to determine the multiplier that will be used with all your wins during the free spins. This can be as high as x5 on all wins. Once you know how many free spins you have won and the multiplier, the free spins will begin. Once the bonus round has concluded you will be returned to the base game.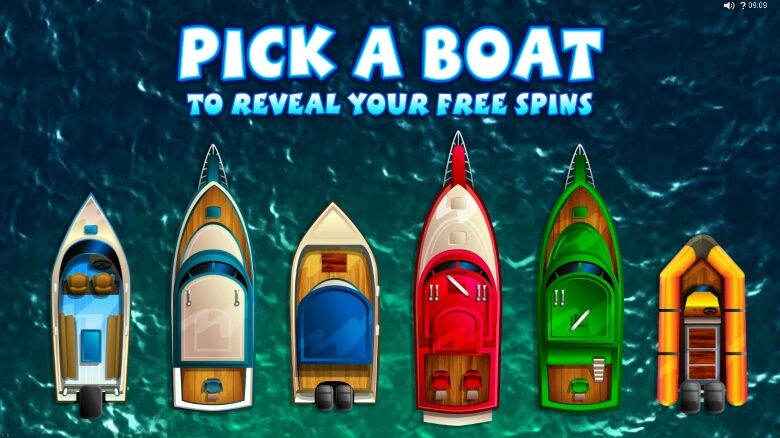 Reel Spinner Video Slot Tips
On the right-hand side of the game screen, you will see a button labelled 'Pays'. This will reveal 3 screens that give information about the game including the main features as discussed above. You can also view the coin payout levels for the number of matching symbols on a winning line along with a grid view of how the wins are generated. These screens are useful and help familiarise you with the game and what you need to do to get the best wins possible.
If you are new to playing the Reel Spinner video slot, then it would be worth your while to try out the game for free at one of our recommended online casinos. This facility allows you to learn how the game plays and see the bonus free spin feature before spending your hard earned cash. You can switch to real cash play at any time. If you would like to play Reel Spinner for free then you can at 32Red Casino.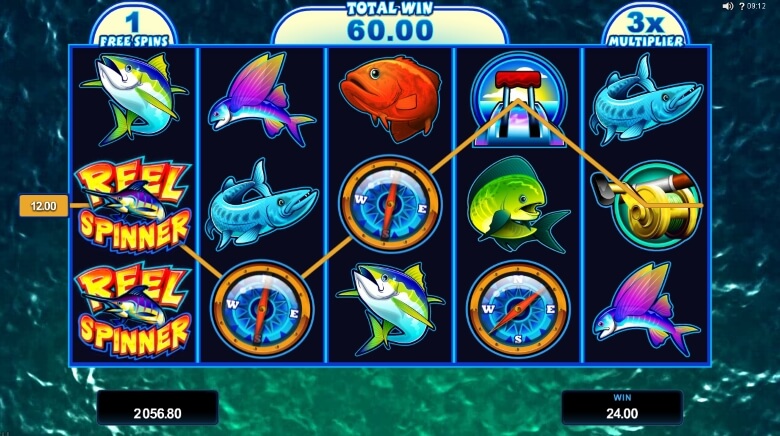 Is Reel Spinner the right video slot for you?
The Reel Spinner Slot by Microgaming has a theoretical RTP (return to player) of 96.38% giving a house edge of 3.62%. We tested the game over 100 spins at a £1.20 cost per spin and found that it plays exactly as the medium variance game it is intended to be. This will suit you if you are looking for a good length of play with reasonable cash wins in the base game but knowing that there is a chance for much bigger prizes in the bonus feature.
As we played we never had a dry spell of more than 8 spins without a win but to be fair that was only once. We generally had a win land about every 4 spins. This made us feel like we were definitely having an enjoyable game. The bonus round is fun in the fact it is different with you feeling like you have an influence over how many free spins you can earn plus what level the multiplier will be set at. So if you have a free casino bonus to wager through then the Reel Spinner is definitely a slot to consider.
More games in Video Slots